VUU's Hammond wins Lanier Defensive Back of the Year award
12/15/2017, 7:25 a.m.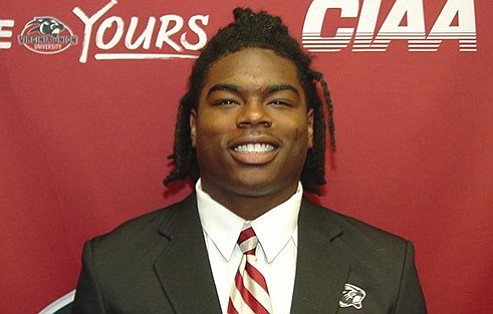 Sterling Hammond is the latest in a long line of exceptional defensive backs at Virginia Union University.
He has lived up to his name, Sterling, meaning "excellent" or "valuable."
The fleet and rugged 6-foot-1, 210-pound Hammond has picked up two impressive postseason honors following his sophomore season at VUU.
First, Hammond was named CIAA Defensive Player of the Year after leading the Panthers in tackles (70) and interceptions (five). He also returned a blocked punt for a touchdown.
Last week, he was named the Willie Lanier Defensive Back of the Year by the Richmond Touchdown Club as part of its annual Bill Dudley/Willie Lanier Banquet.
The Lanier trophy is limited to players from NCAA Divisions II and III and the NAIA.
Hammond, a finance and banking major, hails from Essex High School in Tappahannock, where he led his team to an 11-2 record and the state 1A semifinals in 2015.
He was heavily recruited by schools such as Virginia Tech, the University of Louisville and Old Dominion University before deciding on VUU.
VUU is no stranger to standout cornerbacks and safeties. Panthers defensive backs drafted by NFL teams include Gene Beard, Irvin Mallory, Bob Jones, Tony Leonard, Oscar Jenkins and Pete Hunter.
Then there were Panthers who were named Associated Press Little All-Americans — William Dillon (Seattle) and Frank Dark (Baltimore) and played in NFL preseasons.