27th Annual Capital City Kwanzaa Festival set for Dec. 30
12/22/2017, 3:55 p.m.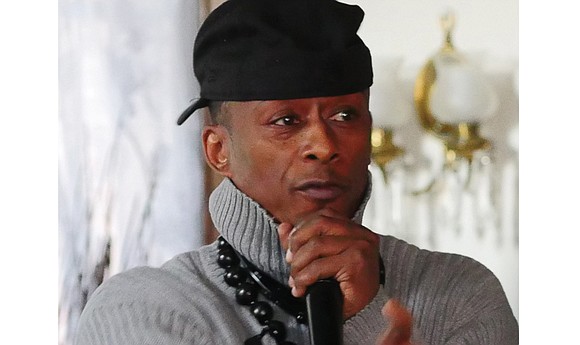 Professor Griff, a member of the award-winning hip-hop group Public Enemy, will be the main speaker at the 2017 Capital City Kwanzaa Festival on Saturday, Dec. 30.
This is the 27th year of the festival that is produced by the Elegba Folklore Society in observance of the seven-day holiday created by Dr. Maulana Karenga based on traditional African harvest festivals.
This year's festival will be held from 2 to 9 p.m. at the Dewey Gottwald Center on the campus of the Science Museum of Virginia, 1005 DMV Drive.
Professor Griff will speak at 4:15 p.m. on the festival's theme, "Divinely Purposed."
The celebrated musician, spoken word artist and lecturer recorded nine albums with Public Enemy and was known as the group's Minister of Information. He formed his own group, the Last Asiatic Disciples, after his departure from Public Enemy and also headed the group, Security of the First World. He later rejoined Public Enemy, whose story was told in the 2015 movie, "Straight Outta Compton." The group was inducted into the Rock and Roll Hall of Fame in 2013.
The festival will open with a pouring of libations to the ancestors and a candle lighting ceremony, followed by a procession of dancers, drummers and singers in the West African tradition.
The Nia Sessions, a variety of workshops and discussions, will take place from 4 to 8 p.m. Among the highlights are Richard C. Yates, a Reiki master, and others from the Joyce M. Branch Healing Place, who will talk about alternative approaches to health maintenance; Felicia Beckett of the Resilience Women's Circle who will talk about women recalibrating their self-worth; Professor Neal Holmes talking about current events; and financial strategist Pierre Greene discussing money matters.
Unicia Buster, a visual artist and educator, will lead Watoto Kwanzaa activities, including art making and cultural lessons.
Other performers slated for the festival are Ban Caribe, Wildfire and the Mike Hoggard Quartet.
An African market, with food, books, art, clothing, jewelry and other items, will be open throughout the festival.
Tickets are $6 in advance, $7 at the door; students ages 12 to 18 and seniors age 65 and older are $5 in advance and $6 at the door. Admission is free for children under age 12. Tickets may be purchased at the Elegba Folklore Society's Cultural Center, 101 E. Broad St., or online at www.efsinc.org.
Details: www.efsinc.org or (804) 644-3900.