Tavis Smiley's shows suspended after sexual misconduct allegations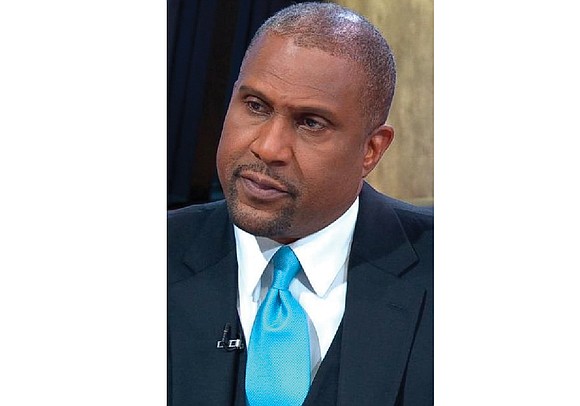 Free Press staff, wire report
Tavis Smiley's Richmond stage presentation, "Death of a King: A Live Theatrical Experience," and his nightly PBS talk show have been suspended after an independent investigation launched by PBS uncovered "multiple, credible allegations" of misconduct by Mr. Smiley.
Mr. Smiley has denied the allegations and vowed to fight back after PBS officials announced Dec. 13 that it was suspending distribution of his program that is produced by Mr. Smiley's company and has aired on PBS since 2004.
According to Variety, a national entertainment industry news magazine, the investigation conducted by an outside law firm found that Mr. Smiley had engaged in sexual relationships with multiple subordinates, creating an "abusive and threatening environment."
The allegations have halted Mr. Smiley's plans for a 40-city tour next year of his stage presentation about the final year of the life of Dr. Martin Luther King Jr. to coincide with the 50th anniversary of Dr. King's assassination. The show was scheduled to come to Richmond on March 22.
Jam Theatricals/Broadway in Richmond, purchased the show from Mills Entertainment, to present in Richmond. Last Friday, Mills Entertainment released a statement noting, "In light of the recent allegations concerning Tavis Smiley, Mills Entertainment will not be moving forward with 'The Death of a King' project at this time. We deeply believe in the message of this production and the importance in commemorating Dr. King in this crucial moment. However, we take seriously the allegations and will be suspending our relationship with Tavis Smiley and T.S. Productions."
Walmart, one of the sponsors of the stage production and Mr. Smiley's television program, and Hay House, a self-help publisher that distributes the Smiley Books imprint, announced they also have suspended their relationships with the talk show host.
Mr. Smiley planned to release his new book, "Leading by Listening: Connecting Through Conversation to Transform Your Relationships and Your Business," but all Smiley projects are now "on hold" pending an internal review, the book distributor announced.
Mr. Smiley denied the allegations, using social media last week to claim PBS "overreacted" and calling it "a rush to judgment."
"I have the utmost respect for all women," he said in a statement on Facebook and Twitter, "and I certainly celebrate the courage of those women who have come forth of late to share their own truth. But let me also assure you that I have never groped, inappropriately exposed myself or coerced any colleague ever in my 30-year career," he said.
He claimed one relationship the network uncovered was consensual.
"If having a consensual relationship with a colleague years ago is the stuff that leads to this kind of public humiliation and personal destruction, heaven help us," he said. "This has gone too far. And, I, for one, intend to fight back."
In an appearance Monday on "Good Morning America," he said PBS was making "a huge mistake." He also faulted PBS for not sharing the identities of his accusers.
The company shot back Monday, stating that Mr. Smiley, "needs to get his story straight."
"Witnesses who have bravely come forward to speak with the independent investigators retained by PBS report a fear of retribution for speaking out. PBS stands by its decision to respect the anonymity of those who are afraid to come forward publicly. Additional allegations are continuing to come to light since last week's announcement," the network spokesperson said.  The decision to suspend Mr. Smiley's program comes just weeks after PBS cut ties with anchor and talk show host Charlie Rose, citing his "extremely disturbing and intolerable behavior" toward women connected with the show.