Probe finds Wilder engaged in 'nonconsensual sexual contact' with 20-year-old student
Virginia Commonwealth University now finds itself in the embarrassing position of both supporting and attacking one of its highest paid and most prominent faculty members, L. Douglas Wilder, the nation's first elected black governor.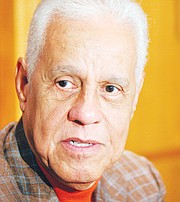 The university has confirmed that it renewed Mr. Wilder's $150,000 annual contract on May 31 amid an ongoing investigation of his alleged improper actions toward a female student young enough to be his great-granddaughter.
And now VCU is facing the prospect of holding him accountable and possibly dismissal after the probe found that the 88-year-old Mr. Wilder planted an unwanted kiss on Sydney Black, who was a 20-year-old student office assistant at the time in VCU's L. Douglas Wilder School of Government and Public Policy.
Ms. Black later complained to VCU authorities. She has since left VCU.
Mr. Wilder recently offered a public denial of any wrongdoing.
Though VCU has sought to keep the probe's findings secret, published reports indicate the probe found the aging political lion had "nonconsensual sexual contact" with Ms. Black, while exonerating Mr. Wilder of other allegations Ms. Black made, including sexual exploitation, gender-based discrimination and retaliation.
VCU officials turned back media questions, claiming the university does not comment on university investigations as a matter of policy. At the same time, despite the decision to continue Mr. Wilder's pricey salary, VCU stated that "sexual misconduct in any form is harmful to the well-being of our community members and will not be tolerated."
In the wake of the published reports, Mr. Wilder issued a blog statement last Friday rejecting the finding and suggesting he would fight it. His blog post, titled "THANK YOU and STAY TUNED!" reads: "I want to thank the many people who have shared their continuous support and belief in me. I have made NO comments about the baseless allegations against me which have been proven to be untrue. Those who know me know that I have always fought for the things in which I believe and will continue to do so. Your faith in me is justified. The truth will out (sic)."
Mr. Wilder had until Tuesday to contest the allegation, which he was expected to do. If he did, then the VCU Review Panel for Title IX complaints of sexual misconduct would consider whether the probe undertaken by an outside investigator should be upheld.
If Mr. Wilder accepted the finding, then he and Ms. Black would need to agree on a sanction, from counseling to reprimand to dismissal, with the review panel having the duty to decide if the parties could not agree.
Mr. Wilder, who served as Virginia's governor from 1990 to 1994, has been an adjunct faculty member at VCU since at least 2009, after he left office as Richmond's first elected mayor in nearly 60 years. Early on, Mr. Wilder taught at least one course a year. He maintains an office in the VCU school that is named for him.
According to Ms. Black's version of events, Mr. Wilder invited her out to celebrate her 20th birthday in February 2017, plied her with liquor, then took her to his Richmond riverfront apartment where he made a pass at her, including the kiss. When she rebuffed him, he took her back to her car. She said that two months later, she drove to his home in Charles City County, where he propositioned her about becoming his companion, offering to take her on overseas trips, pay for her to attend law school and suggesting that she live at his home. She said she rejected his offers.
Within a few months, he told her money for her university-funded position at the Wilder School had run out.
She left the school and got a job to raise money to return to VCU, re-enrolled in September 2018 and then filed the complaint in December. After she went public with her complaint, she left VCU and now plans to finish her degree elsewhere.
VCU named its school of government and public affairs for Mr. Wilder in 2004 and made it an independent school in 2013. The school has long trumpeted the relationship.
"Gov. Wilder truly is an icon inside and outside of Virginia," Dr. Eugene P. Trani, then president of VCU, said in 2004 in announcing the naming. "Douglas Wilder's name embodies this university's commitment to opportunity, responsibility,