Wilder says VCU panel cleared him in probe; VCU spokesman says that's 'premature'
L. Douglas Wilder has maintained for months that a former Virginia Commonwealth University student made up a story that he made sexual advances toward her and propositioned her to be his mistress nearly three years ago.
The 88-year-old former governor and former Richmond mayor now is asserting that an internal university appeals panel has cleared him of any wrongdoing after a six-hour hearing earlier in October.
According to Mr. Wilder, the panel rejected an initial investigative finding that he had "nonconsensual sexual contact" with the then 20-year-old student Sydney Black, who has since left VCU.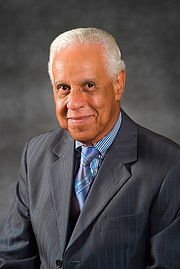 That unwanted contact was a kiss that Ms. Black alleged Mr. Wilder planted on her during a visit to his Rich- mond condominium on her 20th birthday in February 2017. She also claimed he put his hand on her thigh in making a pass at her.
Mr. Wilder denied touching Ms. Black inappropriately or kissing or trying to kiss her in a 15-page rebuttal of the initial finding of fault on his part.
He issued the rebuttal in mid-July to force the appeal to the VCU panel, arguing the finding of unwanted sexual contact was unsupported by evidence and undermined by Ms. Black's lack of credibility on other allegations.
He disclosed the three-member appeals panel's finding at an Oct. 24 news conference.
"I am pleased that the panel members confirmed what I have stated from the very beginning of this investigation," said Mr. Wilder, who followed up with statements critical of the process VCU has followed in the probe, claiming that it often was carried out "in the dark" and in a manner that "revealed policy violations."
"There is no consistent process by which the university investigates and makes findings with respect to grievances," Mr. Wilder said.
However, VCU spokesman Mike Porter called Mr. Wilder's statement that the panel exonerated him "premature."
Mr. Porter stated that the panel's report would be forwarded to the VCU provost, Dr. Gail Hackett, or her designee "to affirm or reject" the recommendation regarding Mr. Wilder. He would not discuss the report's contents.
That continues VCU's practice in such cases. The university has not issued any statement on the case that Ms. Black, now 22, set off in December 2018 — nearly two years after the alleged kiss — by filing a complaint with VCU against Mr. Wilder, a distinguished professor in the School of Government and Public Affairs that bears his name.
In a published report, Jason V. Wolfrey, Ms. Black's attorney, was quoted as describing his client as "very upset, very disappointed" with the panel's recommendation. At the time of the events, she was a work-study student at the school, though she did not work for Mr. Wilder, who has an office there.
Mr. Wolfrey also was quoted as saying that Mr. Wilder did not dispute and the panel accepted as fact that Mr. Wilder, who is divorced, and Ms. Black went to dinner on Feb. 16, 2017, her birthday, that he bought her one or more vodka martinis and that she also went to his condo.
According to Mr. Wilder, the panel essentially rejected her claim that he put his hand on her thigh and kissed her at his condo.
In July, Jody Shipper, an external investigator hired by VCU found it "more probable than not" that Mr. Wilder kissed the co-ed during that visit.
Mr. Wilder denied it happened and argued in his rebuttal that Ms. Black's claim was not credible because, he noted, Ms. Black told her mother only that he "tried" to put his hand on her leg and told a roommate only that he "tried" to kiss her, both inconsistent with the version of events she provided to the university.
Ms. Shipper, however, rejected three other allegations that Ms. Black brought — gender discrimination, sexual exploitation and retaliation — in finding contradictions or a lack of credible evidence to support them.
That includes Ms. Black's claim that Mr. Wilder gave her a note at work the day after the alleged kiss, telling her to keep silent about his advances, as records showed she did not work that day.
Also, her claim that Mr. Wilder took her to lunch a few months after she rebuffed him to notify her that the funding for her work-study job would not be continued fell apart, according to Ms. Shipper. Mr. Wilder, in his rebuttal, noted no evidence was produced that the lunch ever took place, and he noted that he had nothing to do with the funding for her job. He also denied he ever spoke to her about it.
Ms. Shipper also found evidence that Ms. Black sought an invitation to Mr. Wilder's home in Charles City County a few weeks after the alleged kiss, contrary to her statement that Mr. Wilder invited her.
While the events took place in early 2017, Ms. Black went public after filing a Jan. 3, 2019, report of a misdemeanor as- sault with the Richmond Police Department, though she did not seek a warrant.
Ms. Black later said that VCU had requested she file the police report as it began its investigation as required under Title IX of a 1972 federal law prohibiting discrimination on the basis of sex in any federally funded education program.
In June, the university renewed Mr. Wilder's $150,000-a-year contract while the probe was still underway.