Tavis Smiley to bring stage presentation to city
12/15/2017, 7:35 a.m.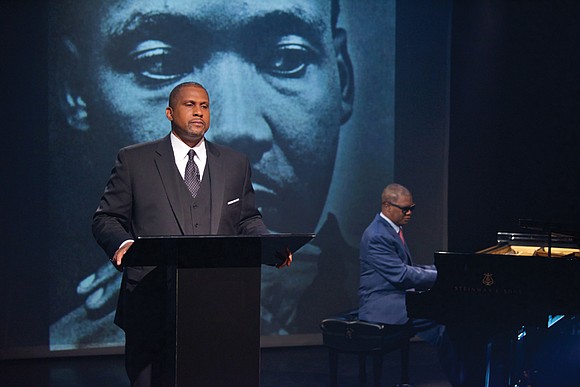 By Ronald E. Carrington
As America commemorates the 50th anniversary of Dr. Martin Luther King Jr.'s death next year, Richmond will celebrate the civil rights icon's life and legacy with a multimedia stage presentation by PBS broadcaster and author Tavis Smiley.
"Death of a King: A Live Theatrical Experience" will be presented March 22 at the Carpenter Theatre at Dominion Arts Center in Downtown. Combining the prose of Mr. Smiley, music by jazz pianist Marcus Roberts and three massive screens showing rarely seen photos and video footage, the show will highlight the impact Dr. King had on American people and across the globe.
It is based on Mr. Smiley's best-selling book, "Death of a King: The Real Story of Dr. Martin Luther King Jr.'s Final Year," and will center on how Dr. King summoned the courage and conviction to go forward with a message of peace despite difficulties and divisions and a decline in his own popularity.
"We get to know who we are in the dark, desolate days of our lives," Mr. Smiley said in a recent Free Press telephone interview. "We learn who is with us.
"The same is true for Martin Luther King," he continued. "If you only know him at his apex, if you only see him at the mountaintop but never experience him in the valley, then you don't know who Martin King really is."
America's collective memory of Dr. King is tightly wrapped in the fabric of his "I Have a Dream" speech delivered at the 1963 March on Washington at the Lincoln Monument. That was Dr. King's apex, Mr. Smiley said, with his message of freedom, equality and justice galvanizing people.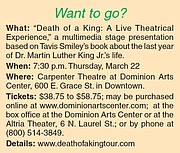 That message has spread around the world, with Dr. King as a beacon for generations of people.
But "in the last years of his life, Martin was trudging and slugging his way through a valley," Mr. Smiley said. "He had fallen off the list of the most admired Americans. To put this in context, Martin's popularity polls were as low as Donald Trump's."
Dr. King had become "more radical in what he was willing to say," Mr. Smiley said. While he had provided counsel to President Lyndon B. Johnson that helped win major civil rights legislation, Dr. King came out against the Vietnam War, a conflict that was dividing the nation.
In an April 1967 speech at New York's Riverside Church called, "Beyond Vietnam," Dr. King talked about how he was challenged by anti-war protesters who questioned how he could support nonviolence to bring about social change when the American government was using violence to bring about changes it wanted in Vietnam.
"I knew that I could never again raise my voice against the violence of the oppressed in the ghettos without having first spoken clearly to the greatest purveyor of violence in the world today: My own government," Dr. King said. "For the sake of those boys, for the sake of this government, for the sake of the hundreds of thousands trembling under our violence, I cannot be silent."
It was a pivotal moment for Dr. King, Mr. Smiley said.
"He was telling the truth about America — straight, no chaser," Mr. Smiley said. "The truth he was telling was so subversive that Americans couldn't handle it … They turned on Martin and he tried to endure a living hell.
"This was Dr. King at his best, at his most courageous, his conviction, his commitment, his character," he said, "a truth as timely today as it was 50 years ago."
Dr. King was assassinated in Memphis, Tenn., on April 4, 1968. He was 39 years old.
The production features Mr. Roberts playing 14 original and stirring compositions encompassing blues, jazz, classical and gospel as the saga unfolds.
Kenny Leon, a Tony Award-winning director whose credits include the 2014 revival of "A Raisin in the Sun" starring Denzel Washington, served as creative director of the show.
"Kenny's choreography ensures that the project looks good and conveys the emotional message as a compelling stage production," Mr. Smiley said.
Cortina, the company that designed and built exhibits for the Smithsonian's National Museum of African American History and Culture, produced the show's visual presentation.
"What they have done will absolutely blow you away," Mr. Smiley said.