VUU alum, former player Alvin Parker to coach Panthers
12/22/2017, 3:42 p.m.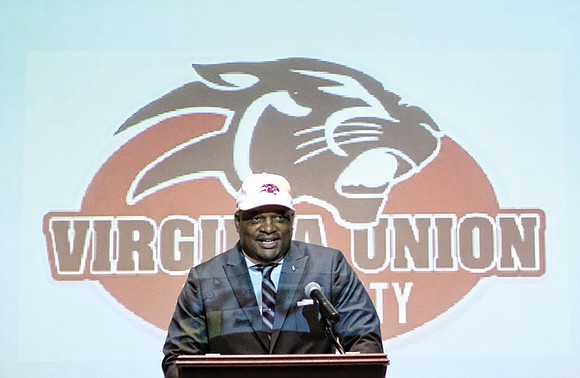 Alvin Parker didn't need much in the way of a formal introduction Monday as Virginia Union University's new football coach.
Almost everyone in the packed conference room in the L. Douglas Wilder Library and Learning Resource Center on the Lombardy Street campus already knew him.
The approving contingent included his mother, his son and a lengthy lineup of old friends and teammates, many with VUU ties.
"It's been a long journey," Coach Parker told his audience. "But God led me back to Virginia Union — the destination I've always wanted."
Coach Parker, 40, succeeds Coach Mark James, who was fired after posting a 26-15 record in four seasons.
A native of Washington, Coach Parker is a former standout player and coach at VUU, both under former Coach Willard Bailey, who was among the crowd at Monday's formal announcement. Coach Parker respectfully referred to his former mentor as "the legend."
A wide receiver, Coach Parker was the Panthers' offensive MVP in 1996 and 1998 and still holds the Gold Bowl record for the longest touchdown catch — 79 yards.
He served as an assistant under Coach Bailey for five seasons and helped VUU to CIAA Eastern Division championships in 2000, 2001 and 2003.
VUU Athletic Director Joe Taylor said Coach Parker was chosen from a list of 122 applicants.
"Coach Parker won championships here as a player. He won championships here as a coach. And he went on to win championships at Elizabeth City," said Taylor. "He's used to winning."
From VUU, Coach Parker went on coach 14 years as offensive coordinator at Elizabeth City State University under another VUU alumnus, Waverly Tillar. During that time, the Vikings won CIAA divisional titles in 2006, 2008, 2009, 2011 and 2012 and played in the Pioneer Bowl in 2009 and 2012.
In 2013, Elizabeth City State averaged more than 30 points and 400 yards per game.
Coach Parker spent the past two seasons as assistant head coach and offensive coordinator at St. Augustine's University in Raleigh, N.C. The Falcons were 5-5 overall this past autumn, but went 4-1 in the CIAA Southern Division, which was one of the team's best finishes ever.
In transitioning from long-time assistant to head coach, Coach Parker said, "Assistants mostly make suggestions. Head coaches make decisions. But I've always been in a position of leadership wherever I've been."
Coach Parker offered his supporters a preview of the 2018 season.
"Offensively, we'll be exciting. On defense, we'll be fast and furious. And our special teams will be just that — special."
Among those applauding his decision to return to Hovey Field was his mother, Beverly Parker.
"She's never missed one of my games as a player or coach," Coach Parker told the crowd. "She's always told me to aim for an 'A.' But today, she said she'd settle for a 'B' on my speech — be short, be sweet and be seated."
Also attending the announcement was Coach Parker's 7-year-old son, Alan, who wore a suit featuring VUU's colors, steel and maroon.
Regarding his own football talents, Alan said he played for Pop Warner Wake Forest Titans and scored seven touchdowns this past season.
Someone asked Coach Parker about his son's touchdowns.
"It's true," Coach Parker said with a smile. "I can show you on film."
Young Alan may be a future Panther. For now, his dad is intent on taking over a program that was 6-4 this past season, but without an overall CIAA crown since 2001, during Coach Parker's previous stint at VUU.