VUU football Coach Alvin Parker hits ground running
Fred Jeter | 2/22/2018, 8:57 p.m.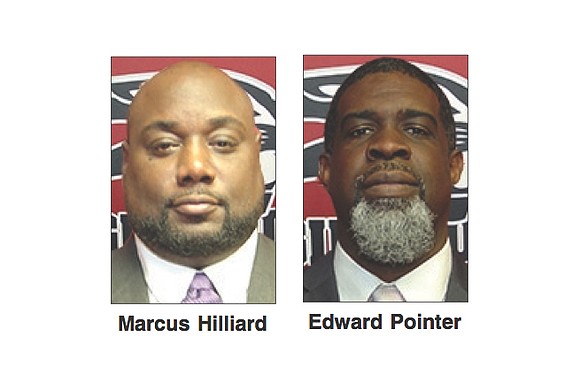 Virginia Union University's new football coach has hit Lombardy Street running.
Since being introduced as the Panthers' coach on Dec. 18, Alvin Parker has completed his coaching staff, signed his first recruiting class, arranged the spring football schedule and, perhaps best of all, averted the kind of player mutiny often associated with a coaching change.
His new assistant coaching staff: Co-defensive coordinators will be Marcus Hilliard and Edward Pointer, both former assistants with Coach Parker at Elizabeth City State University.
"Both were my first choices," Coach Parker said. "Together, they will bring a physical and precise style of defense. They combine over 30 years of coaching experience, 15 years as coordinators. They are also great recruiters and technicians."
Other new coaches will be Nigel Rios (secondary), Monterio Hand (receivers), Diego Ryland (running backs) and Troy Shaffer (special teams).
Returnees will be Mike Morita (run-game coordinator/offensive line), Sam Davis (equipment) and Bernard Rucker (special assistant).
Rucker has been with VUU football in various capacities since 1970, weathering numerous coaching eras.
Another "coach" on campus, at least unofficially, is one of the most successful sideline supervisors in HBCU history.
That is VUU Athletic Director Joe Taylor, who compiled a 232-97 record from 1983 to 2012 at Howard, Virginia Union, Hampton and Florida A&M universities. He was 60-19-3 at VUU from 1984 to 1991.
Few know the business of running a football program better than Taylor.
Recruiting: Starting from scratch, Coach Parker signed 15 players, including high school seniors and junior college transfers, from six states and the District of Columbia.
The lone local signee is 6-foot, 240-pound defensive end Landon Jones from Hermitage High School in Henrico County.
Khalil Wright from Washington's H.D. Woodson High School is the only quarterback on the list.
The signee from the longest distance is 295-pound defensive tackle Tre'Mario Bivens from Saddleback College in Mission Viejo, Calif.
Coming soon: Spring football drills open March 19 and conclude April 14 with the Maroon-Gray intrasquad game at Hovey Field. A total of 15 workouts are slated.
Player retention: Coach Parker expects all the underclassmen from last year's squad to return. Frequently schools suffer transfer losses during a coaching transition.
"There were no casualties," he said. "When I came on board, the players adjusted well to my style and bought in wholeheartedly, which is very rare in this day and time."
The list of returnees includes quarterback Darius Taylor, who passed for 1,953 yards and 22 touchdowns in nine games. Taylor will be a senior.
Looking back: VUU was 6-4 overall and 5-2 in the CIAA in what was former Coach Mark James' final season. The 2017 season concluded with a painful 40-39 loss to CIAA champion Virginia State University. Coach James was 26-15 overall in four campaigns but failed to reach the CIAA championship game.