VUU Panthers hoping to reclaim glory, titles this season

Virginia Union University has had lots to brag about during it's more than a century of football.  
The only problem is it has been a while — some contend way too long — since the Panthers have been able to stick out their chests and boast to other CIAA teams.
VUU's new football coach, Alvin Parker, an alumnus who has tasted Panthers success as a player and as an assistant coach, hopes to re-light the celebratory candles this season while patrolling the Hovey Field sidelines.
The Parker era of Panthers pigskin commences Saturday, Sept. 1, with a 1 p.m. kickoff at Hovey Field against Seton Hill University of Greensburg, Pa.
Opening day
Saturday, Sept. 1
Virginia Union University takes on Seton Hill University of Pennsylvania at Hovey Field in Richmond.
Kickoff: 1 p.m.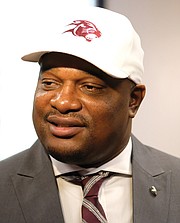 The game will mark a long-awaited homecoming for Coach Parker, who starred as a running back/receiver at VUU and later served as an assistant to revered Coach Willard Bailey.
"This is my dream job and I'm happy to build on the legacy of this storied program," Coach Parker said. "We embrace our position at the front porch of the university."
Coach Parker returns to Lombardy Street as head coach after other successful stints as an assistant coach at Elizabeth City State and St. Augustine's universities in North Carolina.
He replaces Coach Mark James, who was let go following a 26-15 record in four seasons. The Panthers were 6-4 a year ago, but third in the CIAA Northern Division behind Virginia State and Bowie State universities.
It's not like the Panthers program is teetering on the brink. Coach James' squads were explosive offensively and most entertaining. Along with some off-field issues, Coach James' problems centered around the team's inability to beat archrivals Virginia State and Bowie State.
Coach Parker is a link to past glory. The Panthers' last CIAA title was in 2001 under Coach Bailey, with Coach Parker as a top aide.
Also, VUU's last NFL draftee was Pete Hunter, who was drafted in the fifth round by the Dallas Cowboys in 2002. Hunter was among the athletes Coach Parker groomed.
A total of 18 Panthers were drafted by NFL teams between 1961 and 1988.
Coach Parker welcomes some ready-made talent to the Panthers squad this season, starting with defensive back Sterling Hammond, the reigning CIAA Defensive Player of the Year.
Hammond plays with quickness, uncanny instinct and a serious attitude. The junior from Essex High School blows up plays. He was a finalist last season for the Cliff Harris Award, which is given to the nation's top small-college defensive back.
Hammond starts the season on Lindy's Preseason All-America chart.
Also, Hammond and offensive tackle Shamdu Nalls, a senior from Baltimore, are on the HBCU National Player of the Year watch list.
Nalls is 6-foot-4, 330 pounds and serves as a bodyguard for returning quarterback Darius Taylor. Opposing players have to get through Nalls to reach Taylor, which is akin to attempting to run through a concrete wall.