Stars continue to align for VUU
Fred Jeter | 10/19/2017, 6:22 p.m.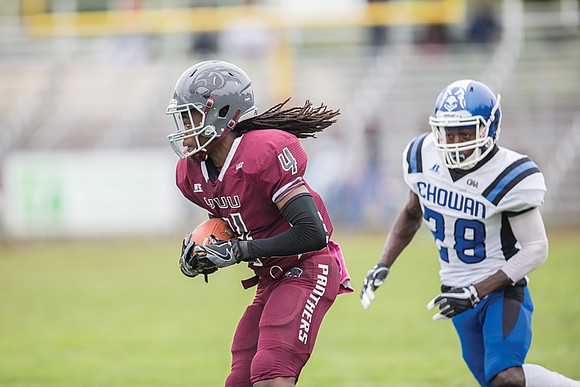 Virginia Union University is headed to Bowie State with a four-game winning streak, the wind at its back and yet another overnight sensation in its evolving rotation.
Coach Mark James' Panthers are now 5-2 overall (4-0 in CIAA) after routing Chowan 35-10 on Oct. 14 at Hovey Field.
In rolling up yardage, points and victories, VUU hasn't left much room for doubt.
Convincingly, it has defeated four CIAA foes in a row by 71 combined points, while averaging 39 points on offense.
Weekly it seems, new stars pop up.
The latest to shine is Jaiden Reavis, a 5-foot-9 freshman from powerhouse Highland Springs High.
Reavis, in his first significant action, snared three TD passes and caught five balls overall for 129 yards.
The newcomer struck quick, catching 43- and 52-yard TD aerials from Eric Caldwell in the first quarter.
He later added a 20-yard score from Darius Taylor, who came off the bench to finish with three TD tosses.
"He's small but has a big heart and a lot of energy, and he's a good route runner," Coach James said of Reavis.
If you're a VUU foe, who do you concentrate on covering?
Seven different Panthers have at least one TD catch.
Reavis is one of five freshmen to join VUU off the Springers' juggernaut that has won back-to-back State 5A titles. Others are lineman D'Angelo Williams, Coach James Jackson, Jordan Wall and Bryan Epps.
It helps that Highland Springs High School activities director is Michael Bailey, former VUU athletic director, football coach and player. James was a teammate of Bailey's at VUU.
Also working in VUU's favor is the fact that Highland Spring's Coach Loren Johnson has Florida roots, like Coach James.
VUU has plenty of weapons and will need all of them at Bowie in a pivotal CIAA Northern Division tussle.
The Panthers need a victory to keep pace with Virginia State in the division and force a possible winner-take-all showdown with the Trojans on Nov. 4 in Ettrick.
Sophomore Sterling Hammond made 11 tackles and added his fifth interception against Chowan (2-5, 2-2), but a stiffer test awaits in Maryland.
Hammond and the rest of the VUU secondary will have their hands full at Bowie covering throws of CIAA passing leader Amir Hall.
Another difference maker for VUU on offense has been offensive lineman Shamdu Nalls, a 6-foot-4, 330-pounder out of Baltimore.
Nalls' pile-driving blocks have helped the Panthers average 397 yards per game — 219 passing, 178 overland.
VUU also feels it has an advantage kicking with Jefferson Souza. The freshman from Deerfield, Fla., is 27-for-27 on extra points (5-for-5 vs. Chowan), and 6-for-9 on field goals.
A Bowie victory would provide VUU bona fide title aspirations, and even fuel NCAA hopes. A loss would be damaging, but not necessarily fatal.
Regardless of the outcome at Bowie, VUU's regular season finale at VSU might still determine the North's representative to the CIAA's Nov. 11 championship game in Salem.
VUU is overdue for a crown. The Panthers haven't won a CIAA football title since 2001.