4 named to Mayor Stoney's staff
Richmond Mayor Levar M. Stoney has added four new people to his staff at City Hall, including three policy advisers and a senior assistant, as he seek to put his stamp on the city government.
The new appointees are former City Councilman Jonathan T. "Jon" Baliles, University of Richmond professor Thad Williamson, former campaign aide Lisa Speller-Davis and a former aide to Gov. Terry McAuliffe, Rushawna Senior.
Mr. Baliles' appointment came as no surprise. The former 1st District councilman ran against Mayor Stoney, then helped him win by dropping out and endorsing him in the waning days of the campaign.

A former city planner and insurance broker, Mr. Baliles will be the senior policy adviser for innovation and initially will earn $85,000 a year.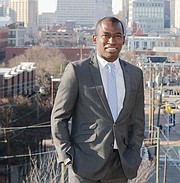 Mayor Stoney said in that role, Mr. Baliles would help him improve the efficiency and accountability of government operations, oversee economic development and lay plans for improving neighborhoods and commercial areas.
A co-founder of the RVA Street Art Festival, Mr. Baliles "brings with him a deep knowledge of City Hall and Richmond and will be an invaluable asset in helping us transform the expectations of city government," Mayor Stoney said.
Dr. Williamson, former director of the city's anti-poverty Office of Community Wealth Building under former Mayor Dwight C. Jones, was named Mayor Stoney's senior adviser for opportunity.
Dr. Williamson, who also was Mayor Stoney's transition director, will work 16 hours a week in his city position while retaining his teaching position at the University of Richmond. To be paid $44,000 a year for his city work, Dr. Williamson will focus on issues involving poverty and education, the mayor said.
Ms. Speller-Davis, a registered nurse and a nonprofit founder, was named the mayor's senior policy adviser for engagement. She is to be paid $110,000 a year and her role will be to build relationships with community groups and the public and ensure their involvement in various policy areas.
"Lisa will play a pivotal role in ensuring that residents have the opportunity to contribute to the development of plans and policies that will shape the future of our city," the mayor said.
Finally, he named Ms. Senior as his senior assistant to ensure a "high-functioning and responsive Mayor's Office." She is to be paid $70,000.
A member of the Army National Guard, she previously served as a policy analyst and legislative coordinator for Gov. McAuliffe on issues of public safety, homeland security, veterans' affairs and defense and as an assistant program coordinator for the state Department of Motor Vehicles.
Earlier, Mayor Stoney named Lincoln Saunders, a former chief of staff to Virginia First Lady Dorothy McAuliffe, to serve as his chief of staff at a salary of $125,000 a year and named James S. "Jim" Nolan, a former Richmond Times-Dispatch reporter, as his press secretary at a salary of $110,000 a year.