Oscars not so white at least in this year's nominations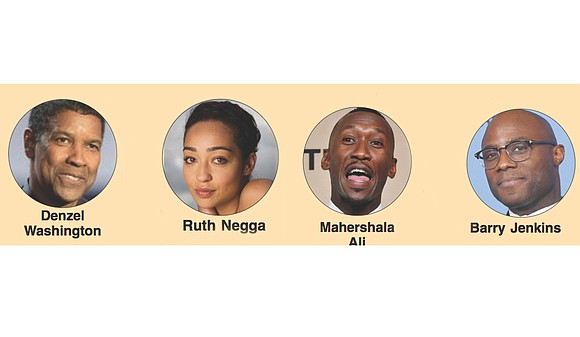 LOS ANGELES
This year's Oscar nominations honor the largest ever group of actors of color, along with a diverse range of stories, a year after Hollywood was slammed for excluding diverse talent.
Among them: Denzel Washington for best actor for "Fences;" Mahershala Ali for best supporting actor for "Moonlight," and best supporting actress nominations for Viola Davis in "Fences," Naomie Harris in "Moonlight" and Octavia Spencer in "Hidden Figures."
The #OscarsSoWhite controversy last year was sparked when all 20 acting nominees were white actors for a second consecutive year.
The hashtag highlighted a larger issue within the film industry, where talent and stories of diverse communities can be hard to get made or are not pushed for awards recognition.
This year, #OscarsLessWhite was trending on Twitter as each acting category featured actors of color.
"Loving" star Ruth Negga, who is of Irish-Ethiopian descent, and "Lion" actor Dev Patel, who is of British and Indian descent, also were nominated for best actress and best supporting actor, respectively.
The nominees were announced Jan. 24 by the Academy of Motion Picture Arts and Sciences in Los Angeles. The 6,600-member academy votes on the Oscars, with the winners to be announced during the Academy Awards ceremony in Hollywood on Feb. 26.
Four of the nine best picture contenders told the stories of African-Americans or Asians. Among the nominees for best picture are "Moonlight," a coming-of-age film about an African-American youth in Florida; "Hidden Fences," about three African-American women mathematicians at NASA; Denzel Washington's adaptation of the August Wilson stage play "Fences;" and Indian adoption story "Lion."
The other best picture nominees are sci-fi film "Arrival," Mel Gibson's Hollywood comeback war movie "Hacksaw Ridge;" drama "Manchester by the Sea;" modern western "Hell or High Water;" and romantic musical "La La Land," with a record-tying 14 nominations including for best picture, actor, actress, director, score and screenplay. It ties with the record number of nominations set by the 1997 blockbuster "Titanic" and the 1950 film "All About Eve."
"Moonlight" director Barry Jenkins called the eight nominations for his low-budget film "an affirmation that film has the power to erode barriers and reveal what makes us all human.
"It shows that in front of and behind the camera, the stories are not homogenous," he said.
"Hidden Figures" grossed $84 million at North American theaters and topped the box office for two weeks, dispelling industry notions about actors of color not drawing mass audiences.
The Academy of Motion Pictures Arts and Sciences overhauled its membership last year, pledging to double membership of women and minorities by 2020 and stripping some older, non-active members of voting privileges.
Academy president Cheryl Boone Isaacs said the aim this year was to "reach out to great filmmakers from around the world" and make the Oscars a global event.
The initiative also led to the Academy breaking tradition by live-streaming the nominations announcement instead of broadcasting a handful of key categories on U.S. television.
"I know that we have reached more people instantly than we ever had," Ms. Boone Isaacs said.
Three explorations of African-American stories made the documentary shortlist: Ava DuVernay's "13th," about the U.S. criminal justice system and slavery; ESPN's "O.J.: Made in America," on the infamous trial of O.J. Simpson; and "I Am Not Your Negro," about civil rights through the eyes of late novelist James Baldwin.
"It's an honor … to be nominated in a year that truly embraces and celebrates inclusion within our creative community," Ms. DuVernay said in a statement.