'Moonlight' wins Best Picture despite major flub at 89th Academy Awards ceremony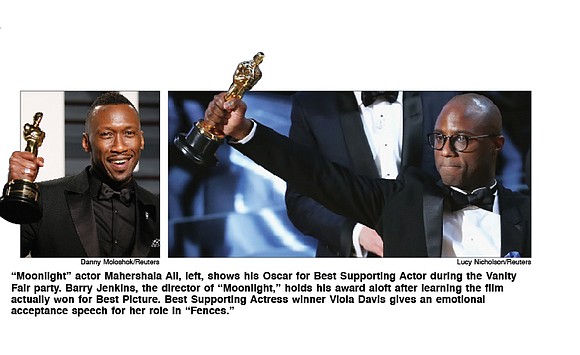 And the Oscar for Best Picture goes to …
"La La Land."
Only, it did not.
Nearly 33 million television viewers of the 89th Annual Academy Awards watched Sunday night as the wrong winner for the much-anticipated, final award was announced.
The film, a musical about an aspiring actress and a jazz musician chasing their dreams in Los Angeles, had won six other Oscars earlier in the evening.
As the film's cast gathered on stage for acceptance speeches, producer Jordan Horowitz apparently was informed about the mix-up and handed an envelope bearing the name of the real winner.
"This is not a joke," he said. " 'Moonlight' has won for best picture." He snatched a card from the envelope and held it up to the audience. The audience in the Dolby Theatre in Hollywood was stunned.
So were the real winners, who were prompted to come to the stage to accept their coveted Oscar statuettes.
"Moonlight," directed by Barry Jenkins, follows a young boy named Chiron through defining moments in his childhood, adolescence and adulthood as he grapples with his sexuality and identity among his peers.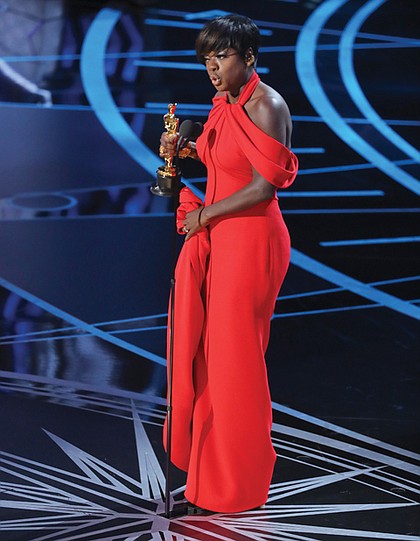 Grossing $22.3 million at U.S. theaters, the film is the smallest-grossing best picture winner since "The Hurt Locker" won in 2010, and the second-lowest since at least 1978, according to Box Office Mojo.
"Very clearly, even in my dreams this could not be true," Mr. Jenkins said in his acceptance speech. "But to hell with dreams! I'm done with it because this is true. Oh, my goodness."
Officials later said the error occurred when the wrong envelope was given to presenters Warren Beatty and Faye Dunaway, stars of the movie, "Bonnie and Clyde," which was released 50 years ago.
Global accounting firm PricewaterhouseCoopers was in charge of getting the right envelopes to the presenters.
In a statement released Monday, the company said, "We sincerely apologize to 'Moonlight,' 'La La Land,' Warren Beatty, Faye Dunaway and Oscar viewers for the error that was made during the award announcement for Best Picture. We are currently investigating how this could have happened, and deeply regret that this occurred."
PwC has handled ballot counting for the iconic awards ceremony for 83 years.
"Moonlight" stars Trevante Rhodes, André Holland, Janelle Monáe, Ashton Sanders, Naomie Harris and Mahershala Ali, who won Best Supporting Actor for his role as Juan.
The film is based on the play, "In Moonlight Black Boys Look Blue," by Tarell Alvin McCraney, who also wrote the screenplay with Mr. Jenkins.
"Moonlight" also won the award for Best Adapted Screenplay.
After the Academy of Motion Picture Arts and Sciences faced a backlash last year for a lack of diversity among nominees, Academy President Cheryl Boone Isaacs told the audience that the global film community is "one that is becoming more inclusive and diverse with each passing day."
She noted that for the first time in three years, an actor of color was nominated in each of the four top acting categories.
"Tonight is proof that art has no borders, no single language and does not belong to a single faith," she said. "The power of art is that it transcends all these things."