Righting grave wrongs
Virginia General Assembly approves funds for 2 area historic African-American cemeteries; state has been paying for upkeep of Confederate graves for 100 years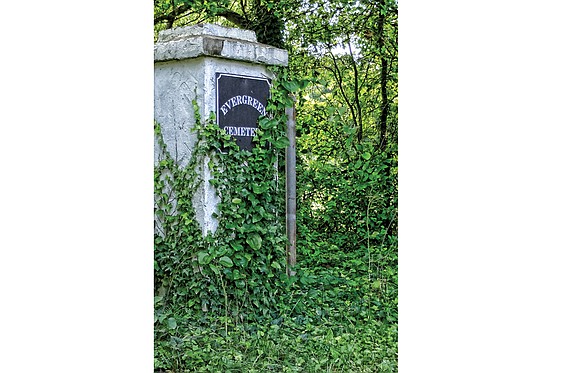 Two historic, but largely abandoned and bedraggled African-American cemeteries on Richmond's eastern border with Henrico County are about to get state support.

For the first time, the General Assembly has approved legislation to put the two adjoining cemeteries — East End and Evergreen — on equal footing with the array of burial grounds for Confederate soldiers, whose graves the state has paid private groups to tend for 100 years.
The move was part of a broadly supported effort in the legislature to give more recognition to African-American history in Virginia and to do more to identify and preserve it.
Volunteers who have led efforts to clear vines and overgrowth from the two cemeteries are delighted at the General Assembly's support.
"It's great," said John Shuck, a retiree who has spent nearly nine years organizing volunteers and leading the cleanup of the two cemeteries that are the burial grounds of such Richmond greats as banker and businesswoman Maggie L. Walker, newspaper editor John Mitchell Jr., educator and suffragist Rosa Bowser and thousands of others.
"The state funds will help solve what has always been the big issue — how to maintain what we have cleared," Mr. Shuck said.
"I love it," said Marvin Harris, a real estate broker who has worked with Mr. Shuck in spearheading a volunteer cleanup of Evergreen Cemetery on behalf of the Maggie Walker High School Class of 1967.
The two cemeteries that date to the 1890s are located off Stony Run Parkway, with East End Cemetery in Henrico and Evergreen Cemetery in the city. Long neglected and overgrown, both are situated east of the city's Oakwood Cemetery.
The overwhelming support from Democrats and Republicans for the bill sponsored by Richmond Delegate Delores L. McQuinn is a sea change from past years, when similar bills to save historic African-American cemeteries died in committee.
It's not clear what made the difference with Delegate McQuinn's measure. The Democrat's bill was drafted in collaboration with the administration of Gov. Terry McAuliffe, who included funding for the cemeteries in his budget proposal.
Beginning July 1, the legislation will allot roughly $35,000 a year to preserve graves and cemeteries "of African-Americans who lived at any time between January 1, 1800, and January 1, 1900" — with East End and Evergreen being the only cemeteries mentioned as eligible.
As is the case with Confederate graves and a small number from the Revolutionary War, the legislation provides $5 per grave. For now, 4,875 burial sites in East End and 2,100 in Evergreen are eligible for the support.
Both have far more graves, but the 6,975 graves with state support are those of people interred before 1900.
Confederate groups, such as the Sons of Confederate Veterans and the United Daughters of the Confederacy, have been receiving annual state allotments for decades to preserve the graves and monuments of Confederate soldiers and sailors.
The State Code details that 13,388 Confederate graves and 402 Revolutionary War graves in specific cemeteries across the state are to be supported at $5 per grave. That total comes to $68,950 annually.