Still funding Confederacy
Years of taxpayer money has kept Confederate cemeteries in pristine condition. Can there be true equity for historic African-American burial grounds?
Brian Palmer | 3/22/2019, 6 a.m.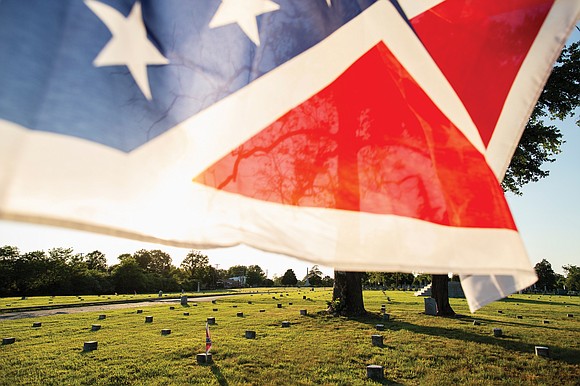 On most Saturdays since 2013, volunteers have met at East End Cemetery in Henrico County to hack away at the vines and weeds that have choked gravesites there for decades.
By now, they've hauled out tons of brush and more than 1,500 tires dumped illegally at this historic African-American burial ground that was founded in 1897.
Similar cleanup efforts have taken place at the cemetery's bigger and better known Richmond neighbor, Evergreen Cemetery, where turn of the century black luminaries such as banker Maggie Lena Walker, journalist John Mitchell Jr., and physician Dr. Sarah Garland Boyd Jones were laid to rest.
One enters a different world by crossing Stony Run Parkway and into Oakwood Cemetery's Confederate section. The grass is neatly trimmed. Headstones are clean and, for the most part, upright. There are no pockets of garbage.
There's a plaque at the gate to the Confederate area informing visitors that a 1930 act of the Virginia General Assembly set up a perpetual care fund for the Confederate section of this city-owned cemetery. The fund, a lump sum of $30,000, doesn't sound so generous until one realizes that it was the equivalent of $440,000 today.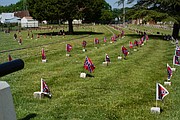 Records show that since 1902, the Commonwealth of Virginia has paid more than $9 million, in today's dollars, to associations and neo-Confederate organizations to maintain Confederate graves and cemeteries.
In effect, Jim Crow has left his mark on each of these burial grounds. Its racist policies and practices allowed white officeholders to funnel tax dollars paid by local citizens, black, white and all races, to support Oakwood's Confederate section and other white burial grounds, while East End, Evergreen and other historic African-American cemeteries were starved for funds, the vital history they contained literally consumed by nature.
Unfortunately, this is not ancient history. For more than 100 years, the Commonwealth of Virginia and other former slave states have been subsidizing not only Confederate cemeteries, but many of the hundreds of Confederate monuments and "heritage" sites that mark public space across the South.
This financial aid, much of it channeled through neo-Confederate organizations such as the United Daughters of the Confederacy and the Sons of Confederate Veterans was approved by the same all-white — or white-dominated — legislatures that engineered the theft of black voting rights in the late 19th and early 20th centuries.
The money continues to flow because some of these annual allocations are still on the books in 2019. Meanwhile, many African-American sites of memory, such as East End and Evergreen cemeteries, subsist mostly on private donations and volunteer labor.
Even among Southern states, Virginia has maintained a particularly strong commitment to lionizing the losing side of the Civil War. These statues and tributes to the Lost Cause promote a false history of the conflict, which asserts that states' rights and tariffs — and not a struggle over slavery — were at the heart of the bloody war. Moreover, according to that toxic ideology, African-Americans were not simply naturally suited and divinely assigned to enslavement, but they thrived under it and were happy.