Maggie Walker Class of 1967 starting cleanup effort at area cemeteries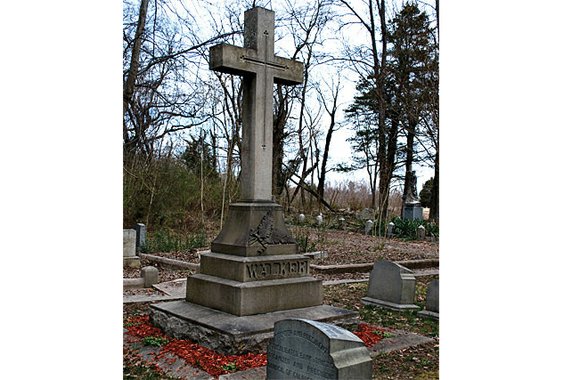 A renewed effort is being mounted to clean up four long neglected, but historic African-American cemeteries that sit on the eastern border between Richmond and Henrico County.
In preparing for its 50th anniversary reunion, the Maggie Walker High School Class of 1967 is taking up the cause of the overgrown Evergreen and East End cemeteries, as well as two other burial grounds — one of which is owned by the city.
Despite heroic volunteer efforts, only a small portion of the 70-acre Evergreen and East End cemeteries is still in use and maintained.
The remainder — the resting place for such historic figures as civic and business leader Maggie L. Walker, crusading editor and politician John Mitchell Jr. and educators Andrew J. Bowler, Rosa Bowser and Virginia Randolph — is returning to forest, with headstones broken or completely overgrown.
Families who buried people there, as well as the city, never provided funding for perpetual care, and later generations are not tending the graves. The City of Richmond, which once buried the poor on a portion of the land, gave up maintenance of its site years ago.
The new effort to restore the cemeteries will begin Saturday, May 7, according to Marvin L. Harris, a Realtor and property manager, who is leading the Class of 1967's effort.
He said nearly 100 volunteers armed with tools and other equipment will meet at 9 a.m. to work on clearing trees, brush, vines, poison ivy and other vegetation.
The cemeteries are located along Stony Run Parkway, which can be reached off Nine Mile Road in Henrico County via Evergreen Road or from East Richmond Road in the city.
The cemeteries include private Evergreen Cemetery, owned by UK Corp.; now abandoned East End Cemetery; and the Colored Pauper's Cemetery owned by the City of Richmond; and the Oakwood Colored Section, an abandoned part of Oakwood Cemetery, an active city-owned cemetery that lies west of Stony Run Parkway.
Mr. Harris said the class is teaming with John Shuck, a genealogist and Iowa transplant who has spent the past seven years leading the largest effort to improve the cemetery grounds, uncover hidden graves and repair a decaying mausoleum on the site.
Mr. Shuck, as well as his wife, Debbie, have coordinated volunteers and spent time each weekend since 2008 to improve the cemeteries on behalf of Virginia Roots, a nonprofit founded by Veronica Davis of Hampton to call attention to neglected African-American cemeteries. Her biggest success was to get the City of Richmond to fence and maintain the historic Barton Heights cemeteries.
Additional volunteers are welcome to join the effort, Mr. Harris said, adding that tools and gloves will be provided. He also urges anyone who can to bring weed-eaters, chainsaws, bush hogs and other power equipment, as well as water coolers and bug spray.
Mr. Harris said this event "is just the starting point."
"We want to make progress, but anyone who has visited the area knows that this is not a one-day project. It could take up to two years to get the job done, and we plan to stay with it."
He became motivated to make this a class project as a result of the push to erect a statue to Mrs. Walker, the school's namesake who is best known as the first African-American woman to found and lead a bank in the United States.
"People coming to Richmond ought to be able to learn as much as they can about her. But if they tried to find her grave, they couldn't because it is so overgrown," he said.
The class is taking on the effort because other volunteer groups such as the national Maggie Walker Alumni Association and the Maggie L. Walker Historical Foundation are no longer active or involved in tending her grave.
Mr. Harris is recruiting others to take part in the weeks ahead, including the multiracial One Voice Chorus and the Jewish Congregation Or Ami. He's also seeking resource donations from landscaping firms.
For more details, email Mr. Harris at mharris@mapinv.com or call (804) 240-1418.