Richmond area athletes land spots in NFL conference semifinals
Fred Jeter | 1/13/2017, 6:03 p.m.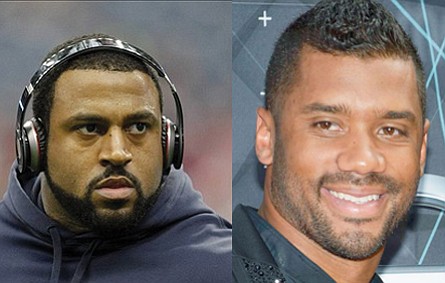 Seattle Seahawks quarterback Russell Wilson and Houston Texans offensive tackle Duane Brown both earned an A-plus on their NFL first round playoff report cards.
The former Richmond area athletes were nearly flawless in helping their teams advance to this Saturday's conference semifinals. Seattle travels to Atlanta to play the Atlanta Falcons, while Houston will play the New England Patriots in Foxborough, Mass.
Wilson, a Collegiate School alumnus, hit 23 of 30 passes for 224 yards, three touchdowns and no interceptions in sparking Seattle to a 26-6 home win over the Detroit Lions. He was always a step or two ahead of the Lions' pass rush.
Feeling frisky, Wilson was playing for the first time in months without a cumbersome brace on his right knee. He suffered an MCL sprain during the third week of the season.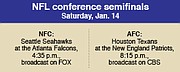 "I've been not wearing it in practice. But my philosophy is that we wanted to be smart and wanted to make sure we had the opportunity to make the playoffs, then cut loose," he said in a postgame news conference.
Brown, an alumnus of Henrico County's Hermitage High School who also is bouncing back from a leg injury, blocked brilliantly in Houston's 27-14 victory over the visiting Oakland Raiders.
He helped shut down a usually fierce Raiders' rush, led by Khalil Mack, with zero sacks. Texans quarterback Brock Osweiler wasn't so much as knocked down all day.
The 6-foot-4, 315-pound Brown finally is feeling at full strength following recovery from a quadriceps tendon tear suffered late last season.
"At this time last year, I was recovering and watching from the couch," Brown told the Houston press. "Now I can contribute. I'm very thankful to be here with my guys."
Both Wilson and Brown are recalled as tremendously versatile athletes in high school.
Wilson starred in basketball and baseball at Collegiate, while Brown was a standout in basketball and track for Hermitage.
Wilson went on to play football at North Carolina State University and the University of Wisconsin. He was a third round draft choice of the Seattle Seahawks.
Brown helped Virginia Tech to an ACC football title before becoming a Texans first round draft pick (26th overall). He has been a three-time All-Pro.
Another similarity between the two is that they both have celebrity wives.
Wilson married popular singer-songwriter Ciara on July 6, 2016.
In 2011, Brown married Devon Anjelica, aka "Devi Dev," who has hosted and entertained on such shows as Sirius XM Shade 45 and Sway in the Morning.
Football has been good to both men's pocketbooks.
In 2012, Brown inked a six-year contract worth $53.4 million, with $22.08 million guaranteed.
In 2015, Wilson signed a four-year pact worth $87.6 million.