Local athletes to share NFL playoff spotlight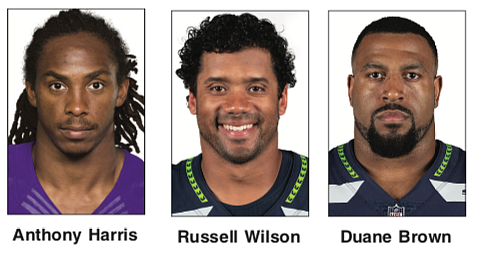 Seattle Seahawks quarterback Russell Wilson isn't the only local athlete making headlines in the NFL playoffs.
Another postseason standout is Minnesota Vikings safety Anthony Harris, a fifth-year safety out of Chesterfield's L.C. Bird High School and the University of Virginia.
Harris tied for the NFL lead in interceptions this season, with six, and added another on Sunday in the Vikings' 26-20 upset over the New Orleans Saints.
Wearing No. 41, Harris picked off Saints quarterback Drew Brees in the first half and returned the ball 30 yards, setting up Dalvin Cook's touchdown run for the Vikings.
Harris was a brilliant quarterback and defensive back at L.C. Bird while also excelling in basketball.
While at U.Va., Harris had 11 career interceptions to go with 289 tackles.
Undrafted, he signed with the Vikings in 2015. He currently is working under a one-year contract for $3.095 million.
Meanwhile, the beat goes on for the Seahawks' phenomenal Wilson.
Seattle's motto is "In Russ We Trust" and No. 3 came through again Sunday in the Seahawks' 17-9 victory over the Philadelphia Eagles.
Wilson, a former Collegiate School standout, passed for 325 yards and ran for another 45 yards as Seattle advanced to face the Green Bay Packers.
Wilson is joined on the Seattle roster by offensive left tackle Duane Brown from Henrico's Hermitage High School and Virginia Tech.
Brown has been sidelined following a knee injury, but the Seahawks are hopeful he'll be back for the game against Green Bay on Sunday, Jan. 12.