VCU beats UMass; ready for Davidson on Saturday
Fred Jeter | 1/13/2017, 6:38 p.m.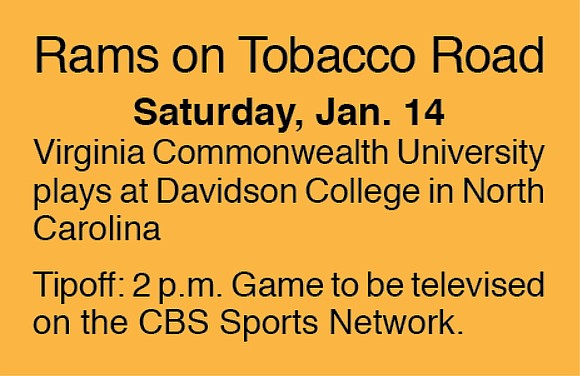 Just prior to the Atlantic 10 tournament in March, conference coaches will gather in Pittsburgh to vote on the A-10 Player of the Year.
Two top candidates for the honor will be facing off Saturday, Jan. 14, when Virginia Commonwealth University travels to Davidson College in suburban Charlotte, N.C.
The Rams' JeQuan Lewis and the Wildcats' Jack Gibbs are compiling credentials worthy of postseason hardware.
Lewis, a 6-foot-2 senior from Tennessee, averages 16 points, 4.4 assists, 2.3 steals and is the most consistent reason why VCU carried a 13-3 record — 3-0 in the A-10 — and a seven-game winning streak into this week.
Lewis saved all 17 of his points for the second half in the Rams' 81-64 win last Saturday over the University of Massachusetts at the Siegel Center. Lewis' effort offset a 22-point, 11-rebound, four-blocked shot effort by Rashaan Holloway, UMass' 6-foot-11, 320-pound center.
Gibbs, a 6-foot senior from Ohio, averages 22.3 points, 4.3 assists and leads the A-10 with 2.9 3-point hits per game.
While Gibbs has slightly better individual numbers, Lewis has the clear edge in team performance.
Davidson was 8-6 overall, 1-2 in the conference entering this week.
VCU has been the A-10's dominant team since entering the league in 2012, compiling an overall 63-21 mark against conference foes.
The Rams are still looking for their first Player of the Year, however. Last year, senior Melvin Johnson was All-Atlantic-10, joining Gibbs on first team.
Last year's Player of the Year, St. Joseph's DeAndre Bembry, left school a year early and is now with the NBA's Atlanta Hawks.
Despite its 15 NCAA appearances, including six straight years, VCU has a relatively short list of conference Players of the Year.
They are Calvin Duncan (1983, Sun Belt Conference), Bernard Hopkins (1996, Colonial Athletic Association) and Eric Maynor (2008 and 2009, CAA).
Following its victory over UMass, VCU moved to 30th (out of some 350) on the Ratings Percentage Index (RPI), which largely determines NCAA selections and seeds.
Also VCU's schedule is rated 46th toughest nationally to this point.