Thousands join March on Monument for message of equality, unity
1/20/2017, 8:49 p.m.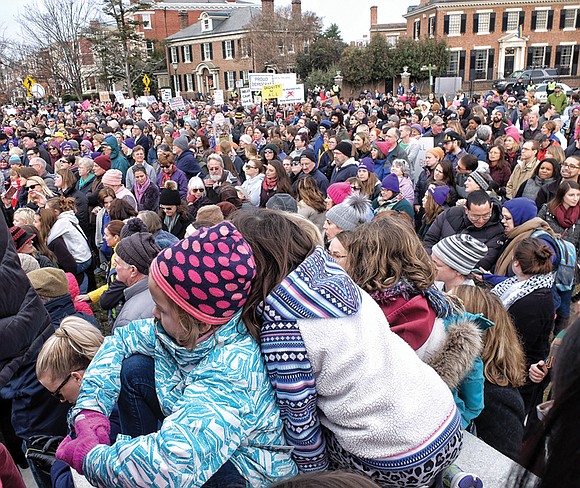 By Frances Broaddus-Crutchfield
More than 2,000 people turned out last weekend in Richmond to promote equality, justice, inclusion, unity and action ahead of Friday's inauguration of President-elect Donald Trump.
The sea of people gathered at the foot of the monument to Confederate Gen. Robert E. Lee for the March on Monument for messages from a variety of speakers about standing tall for positive values while protesting bigotry and discrimination.
The event was staged in solidarity with the Women's March on Washington, which is slated to be held in the nation's capital the day after Mr. Trump's inauguration.
The crowd, filled with adults, children, pets and people with scooters, canes, colorful hats, flags and signs, peacefully marched west on Monument Avenue to the Boulevard, chanting all the way.
Among the chants: "Equality, inclusion, a unified solution!"
Along the route, people came out of their houses and joined the marchers.
Many of the marchers carried signs, including, "Love your neighbor," "Justice for all," "Keep your tiny hands off my rights" and "Does conversion therapy work for bigots?"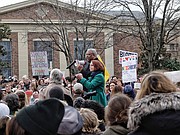 The march was kicked off by Beth Marschak, a longtime gay rights advocate and board member of Diversity Richmond, who told the crowd that unity comes from recognizing differences and finding ways to support one another.
She reminded that Coretta Scott King said people cannot win freedom and justice when they deny it to others.
Diversity Richmond was among the myriad of organizations that sponsored the march, including the ACLU Virginia, Equality Virginia, HOME, the Sierra Club's Virginia chapter, the YWCA of Richmond and Women Matter.
Several religious leaders spoke, including Melanie Mullen of St. Paul's Episcopal Church.
At the end of the march, state Sen. Jennifer McClellan of Richmond told the crowd it is now more important than ever for people to become engaged and work together as one nation.
"Government is only as good as the people who participate," she said. "We are here to make sure that the least of us have a voice."
Congressman A. Donald McEachin, who represents Metro Richmond and Petersburg in the 4th District, said that America's greatness is its diversity.
"I need you here and in Washington," he told the crowd, urging their involvement in issues facing the nation. "We need to hear from you."
He pledged to fight for the needs of the people.