Thousands turn out for Women's March RVA
1/26/2018, 1:29 p.m.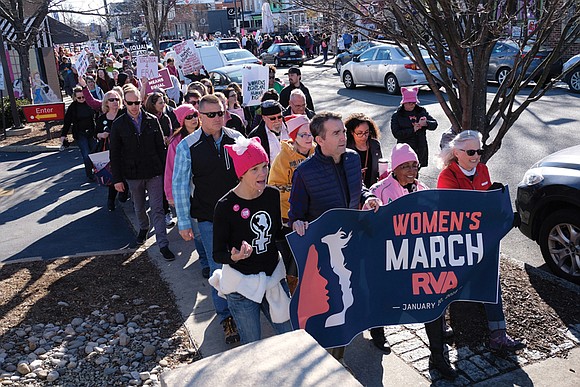 By Ryan Persaud and Alexandra Sosik
Capital News Service
Thousands of demonstrators took to the streets of Carytown last Saturday for the second annual Women's March, recalling demonstrations a year ago when hundreds of thousands of people gathered in Washington and cities around the nation and the world to protest President Trump's inauguration and the GOP's stance on issues such as women's rights and immigration. Some called the 2017 event the largest single-day protest in U.S. history.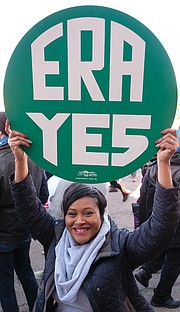 On Saturday, hundreds of demonstrators in Richmond held signs that ranged from mocking the president to promoting equality. They chanted phrases such as, "This is what democracy looks like," "Women's rights are equal rights" and "Coexist."
Kim Young, a demonstrator who missed the Women's March last year because of health issues, said she was excited to attend this year's Richmond event.
"It's about freedom, choice, 'Love is Love,' (and) showing the president that not all Americans are in agreement with him," Ms. Young said.
The Richmond demonstration was one of many across the country Saturday. While the Richmond march had no formal speakers, Saturday's event in Washington featured a collection of speakers, including U.S. Sen. Tim Kaine of Virginia, who ran as a vice presidential candidate on the Democratic ticket against President Trump, House Minority Leader Nancy Pelosi of California and Chris Carson, president of the League of Women voters. They urged women to get involved politically.
Brigette Newberry, a demonstrator who attended last year's Women's March in D.C. and a counterprotest against the Confederate statues on Richmond's Monument Avenue in September, said it is necessary to resist the current administration.
"I feel like it's important that women unite," Ms. Newberry said during the Richmond march.
Kathe Wittig, a retired Virginia Commonwealth University faculty member who participated in anti-war protests in the 1970s, said she worries that President Trump's policies will set society back decades.
"We have to let the world know that we're not going to sit back," Ms. Wittig said. "He is a disaster."
Gov. Ralph S. Northam and his wife, First Lady Pam Northam, joined event organizers in leading the march that started on Cary Street near Thompson Street and headed east nearly to the Boulevard before returning. Gov. Northam helped carry a banner that read, "Women's March RVA." The group of marchers was so large that at times, some of the group was still eastbound while others were returning to the starting point.
Mary Leffler, one of the organizers of the event, attended the 2017 Women's March in D.C. As the anniversary approached, she looked for whether others locally were commemorating that demonstration.
"I sought to see if there was already a march happening, and there wasn't. So I made a few phone calls, helped decide this location and then just started spreading the word," Ms. Leffler said.
She expressed surprise at the turnout.
"We've had estimates of a little over 3,000," she said. "We're thrilled."
Mark Loewen, a children's book author, brought his family with him, including his 5-year-old daughter.