Jordan Talley using hoop skills at UNCW
1/27/2017, 9:53 p.m.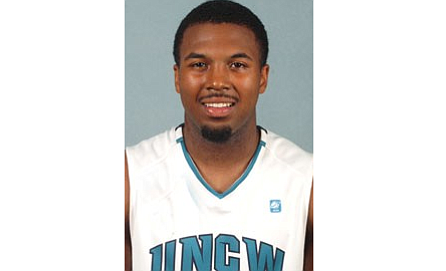 Jordan Talley has carried his winning basketball formula from Central Virginia to the North Carolina coast.
The former Henrico High School guard is stirring a hoops revival at the University of North Carolina at Wilmington, a mid-major program flirting with Top 25 recognition.
"We've never made the Top 25," Talley, a junior majoring in recreation and sports leadership, told the Free Press in a phone interview.
"That's the plan — to get there."
The Seahawks of the Parham Road-based Colonial Athletic Association began the week with a 19-2 record and are in the "receiving votes" category of Associated Press rankings.
Also, UNCW has an RPI power ranking of about 26 out of 351 Division I schools.
Talley, the 6-foot son of Oscar and Crystal Talley, was at his best on Jan. 19 in UNCW's 65-59 victory at the College of Charleston.
Off the bench, Talley had 17 points, two assists and just one turnover in 22 minutes. His aggressive defense helped limit the College of Charleston to a feeble 29 percent shooting.
"We knew from the jump it would be a defensive battle and that was our emphasis," Talley said. "My job is to anchor our defense on the other team's point guard. If my energy is at a high level, others (his teammates) will follow."
Offensively, the College of Charleston kept fouling Talley on his power dribble drives to the hoop. He took advantage, sinking 12 of 16 free throws.
"I do whatever the team needs," Talley said. "Against Charleston, the driving lanes were open. I just took what they gave me."
Talley was UNCW Coach Kevin Keatts' very first signing in the spring of 2014.
In the six years before Talley arrived, UNCW was 58-129 overall. With Talley, the Seahawks were 18-14 in 2015 and 25-7 a year ago.
UNCW won the CAA Tournament last winter before dropping a 93-85 decision to Duke University in the NCAAs at Providence, R.I.
This season, the Seahawks were voted the CAA preseason favorite, and they haven't disappointed.
Talley's success isn't surprising to his Richmond area fans.
At Henrico High, he helped Coach Vance Harmon's Warriors to the 2013 State AAA title at the Siegel Center in Richmond. The Warriors finished 30-2, trouncing John Marshall High School 72-48 in the final.
In Talley's two seasons as a starter at Henrico High, the Warriors were 38-5.
"Jordan was a fierce, competitive bulldog of a player — a winner," Coach Harmon recalled. "His play was unselfish and his ability to make his teammates better was off the charts."
Talley prepped during the 2014 season at Fishburne Military Academy in Waynesboro before signing with UNCW. He has averaged about nine points and four assists for the Seahawks in three powerful seasons.
Talley is a respected sports name around Richmond, but more for baseball than basketball. His dad played for the Tuckahoe Little League in the 1976 World Series in Williamsport, Pa., and for West End Post #361 in the American Legion World Series in 1981 in Sumter, S.C.
The older Talley was an All-Metro outfielder at Douglas Freeman High School and was twice drafted by the Pittsburgh Pirates, first out of Freeman High School and later from Ferrum College.
Jordan Talley played shortstop and pitched in the West Richmond Little League at Byrd Park, and also at Wilder Middle School. But by time he reached Henrico High, Talley was all about winning basketball — and nothing has changed since moving to Carolina.