Aaron Judge fans turn heads at MLB Home Run Derby
7/14/2017, 10:19 a.m.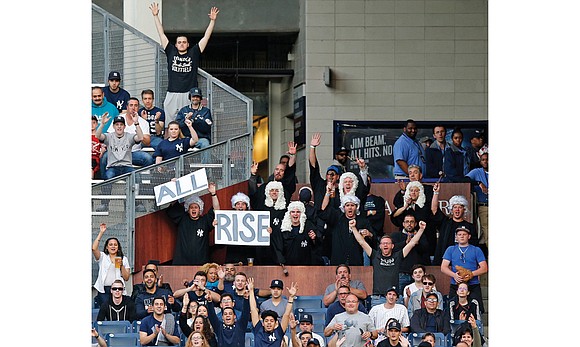 Aaron Judge's prodigious home run swing and his loyal fans were the big head-turners at the Major League Baseball's Home Run Derby on Monday in Miami.
Judge, the brilliant New York Yankees right fielder, blasted balls to all corners of Marlins Park in winning the annual derby that precedes the MLB All-Star Game.
Meanwhile, his flamboyant fan base — dubbed "The Judge's Chambers" — cheered on their hero wearing long black robes and white powdered wigs.
Judge defeated Minnesota's Miguel Sano in the finals with 11 homers to 10. Judge's longest shot was measured at a phenomenal 516 feet at the enclosed stadium.
Earlier, Judge ousted hometown favorite Justin Bour of the Miami Marlins in the quarterfinals and Cody Bellinger of the Los Angeles Dodgers in the semifinals.
In his first full season with the Yankees, the 6-foot-7 Judge leads the American League with 30 homers and 66 runs batted in. He also is among the batting average leaders at .329.