Stanton slugging it all the way to the bank
9/29/2017, 6:59 a.m.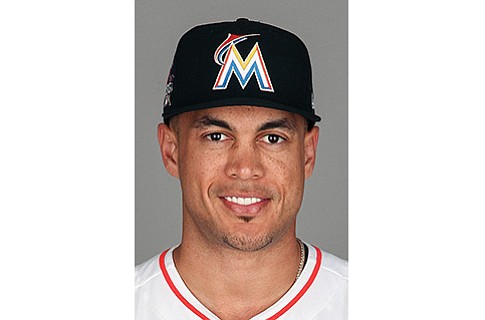 Giancarlo Stanton is Major League Baseball's top slugger. He also claims No. 1 status going to the bank.
The Miami Marlins' mountainous right fielder had 57 home runs through Saturday, Sept. 23, and was bidding to be just the sixth man in history to enter the exclusive club of players with 60 or more home runs in a single season.
The season ends Sunday, Oct. 1.
If you're more into dollar signs than statistics from the diamond, Stanton is in the fourth year of a head-spinning, record contract awarding him $325 million over 13 seasons — 2014 through 2027.
It is the most ever guaranteed any athlete in a team sport, breaking the mark of $275 million — the salary awarded by the New York Yankees to Alex Rodriguez for 2008 through 2017. Rodriguez retired during the 2016 season.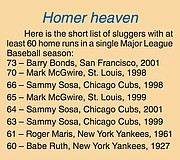 Among active athletes, the next highest paid athlete behind Stanton is Brazilian soccer sensation Neymar, who signed a $270 million pact with the Paris (France) Saint-Germain club of Europe's Ligue 1. Neymar's contract runs 2017 to 2022.
The list of top long-term salaries is dominated by baseball players, largely because of their lengthier careers. The physical grind on a baseball player isn't quite as arduous as in football, basketball or hockey.
The top salary among basketball players is James Harden's $228 million agreement with the NBA Houston Rockets for 2017 to 2023. Harden's salary is eighth overall.
Indianapolis Colts quarterback Andrew Luck is No. 1 in total salary among football players, but just 43rd overall. Luck is working on a $139.1 million deal for 2016 through 2022.
At 6-foot-6 and 245 pounds, Stanton looks like he could play football and basketball, and he did at Notre Dame High School in Sherman Oaks, Calif. He passed on numerous baseball scholarships and football offers from the likes of UCLA and the University of Southern California to pursue pro baseball.
In 2007, he was the Marlins' second round pick. He made his big league debut in Miami in 2010.
Born in Panorama City, Calif., his full name is Giancarlo Cruz Michael Stanton. He went by Mike and Mikey earlier in his career before asking to be called Giancarlo. He considers himself "Afro Puerto Rican American" and Irish. The Puerto Rican comes from his mother's side of the family.
Clearly he is among the top attractions in the game and is well compensated for his entertainment value. Broken down, the right-handed powerhouse makes about $154,000 per game and some $31,000 per time at bat.
Few fans dare to leave their seats to buy popcorn when Stanton is headed to the plate. There is always the expectation that something other worldly is about to happen. At age 27, he is a four-time, National League All-Star with 265 career homers entering this week.
With good health, which is never a certainty, he eventually could challenge Barry Bonds' career home run record of 762 set between 1986 and 2001. That would require Stanton to average around 50 per season for the next 10 years, a far-fetched goal for the masses, but realistic for someone of Stanton's rare talents.