Double threat for the Yankees
4/20/2018, 12:07 a.m.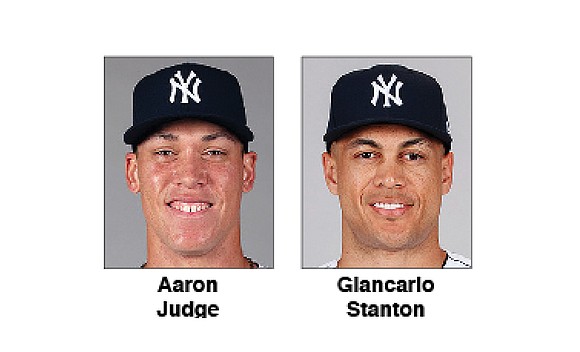 Bombs away.
The New York Yankees, nicknamed the "Bronx Bombers," may pack more ammunition this year than ever before, and that's saying something.
Big Apple newcomer Giancarlo Stanton, 28, and returning Aaron Judge, 23, are potentially the most explosive home run hitting tandem in big league history.
Stanton rocketed 59 long balls last season for Miami, earning the National League's Most Valuable Player honors. Judge slammed 52 home runs for the Yankees and was the American League MVP runner-up to Houston's Jose Altuve.
Now Stanton and Judge are packed together, like gasoline and fire, in a dangerous Yankee Stadium lineup with the World Series as its October target.
Defensively, the Bunyanesque right-handers will alternate in the outfield and as designated hitters. It's at the plate, however, that they gather the most oohs and aahs.
Stanton and Judge have the muscle to challenge baseball's all-time, slugging duo of Roger Maris and Mickey Mantle of the 1961 Yankees.
In 1961, Maris walloped 61 homers and Mantle 54 for what still stands as the two-man record of 115.
Maris' 61 homers also shattered the single season mark of 60 held by another Yankee, Babe Ruth, since 1927.
New York's Ruth (60) and Lou Gehrig (47) combined for 107 fence-clearing shots in 1927, a record that stood until the "M&M Boys," Mantle and Maris, arrived in the Bronx.
As a unit, the 1961 Yankees crushed 240 homers. Elston Howard, who became the Yankees' first African-American player in 1955, added 21 in 1961.
No story of Yankees' homers would be complete without mention of Reggie Jackson and the 1977 World Series. To chants of "Reg-gie! Reg-gie!" Jackson socked homers in three straight at bats in clinching the Game 6 win over Los Angeles. Jackson's three homers in the game and five for the series were records.
Stanton and Judge stand out as much for their physical presence as for their immense power. Stanton is listed at 6-foot-6, 246 pounds; Judge at 6-foot-7, 282 pounds.
They're among the tallest and heaviest non-pitchers in baseball lore.
Stanton, who grew up being called "Mike," hails from Southern California and is of African-American and Irish ancestry. His maternal grandmother is from Puerto Rico. A multi-sport athlete, Stanton turned down both baseball and football scholarships to sign out of high school with the Miami Marlins.
Also from Southern California, Judge, who was adopted at a young age, rejected football scholarships and signed with Fresno State, where he played three baseball seasons. Judge became the Yankees' first round draft choice in 2013.
Stanton was acquired by the Yankees from Miami this past off season for infielder Starlin Castro, two minor league prospects and considerable cash considerations. It didn't take him long to pay off.
In his Yankees' debut, Stanton crushed two home runs in the team's 6-1 win over Toronto.
For the most part, Stanton bats second and Judge third in the Yankees' order.
In games through Saturday, April 14, both Stanton and Judge had a modest three homers each, but Yankees fans are confident the best is yet to come in a seven-month marathon season. Both can expect more than 600 plate appearances.
With continued good health, both could move into all-time, home run charts. Even the exclusive 700 Club (Barry Bonds with 762 home runs, Hank Aaron with 755 and Ruth with 714) may be attainable in another 10 to 12 years or so.   
For obvious reasons, the Yankees' Twin Powers are pitched to carefully. Judge received a rookie record 127 walks a year ago, while also striking out 208 times.
Stanton, a bit more of a free swinger, walked 85 times, while fanning on 167 occasions a year ago in Miami.
Trying to dance around Stanton and Judge carries a toll. Swinging in the middle of the Yankees' order is catcher Gary Sanchez, coming off a 33-homer season.
The long ball switch is never far from reach in the Bronx. Folks in the grandstands need to watch their heads.