GRTC slated to start CARE-on-demand service Aug.1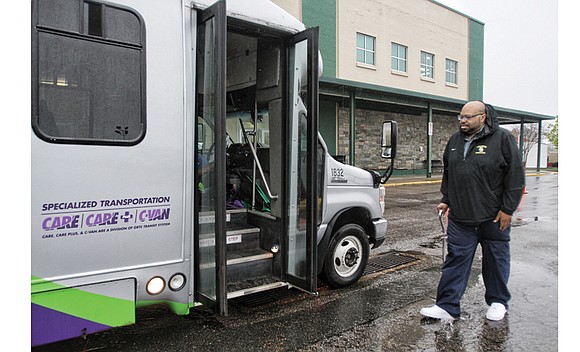 Roderyck Bullock is gaining a new transportation option.
Beginning Tuesday, Aug. 1, the Richmonder will be able to use a new Uber-style, on-demand service that GRTC is putting in place to upgrade service to the elderly and disabled who rely on the company's CARE paratransit service.
Mr. Bullock, who has long complained about missed pickups and late service from CARE, is thrilled at the prospect being able to get to his appointments merely by picking up the phone and calling for a ride.
"This is fabulous," said Mr. Bullock, a former high school track, football and basketball coach who has been sidelined by amputations of his feet and legs.
While GRTC is warning of growing pains and limited service at first, Mr. Bullock sees the new service as remedying many of the ills of the regular door-to-door CARE service, which will continue to operate.
The new service has been in the works for at least eight months as the Free Press reported last winter. The struggle for GRTC has been to find a provider who would meet all of its standards.
The first-in-the-nation program got the green light Tuesday when GRTC's board approved a yearlong test of CARE-on-demand with a partner willing to take on the project.
That partner is Richmond-based UZURV, a fast-growing reservation service for ride-sharing companies like Uber and Lyft, which went online a year ago and now is providing service in 140 cities.
The board awarded a contract to UZURV to manage the on-demand service. UZURV is subcontracting with transit providers like VAN GO and with private drivers whose vehicles meet paratransit requirements.
A one-way ride will cost $21, with GRTC picking up $15 of the cost and the rider paying $6 initially and any additional cost. Riders will know the full cost at the time they make a reservation.
CARE riders in Richmond now pay $3 for a one-way trip within the city and $6 for a one-way ride outside the city. Henrico CARE riders pay $3 a ride wherever they go.
Currently, CARE riders must make a reservation 24 hours in advance.
Under CARE-on-demand, riders will be able to call two hours in advance to UZURV's center at (804) 499-3400. UZURV also is creating a reservation app for CARE riders to download to smartphones and computers. The app is similar to one the company now offers to reserve rides via Uber and Lyft.
Being able to call the same day for service "is a game-changer," Mr. Bullock said. "Sometimes I forget to call for a reservation before the 4:30 deadline. That happens when you're sick. And when it happens, you're out of luck if you have to get to an appointment.
"As far as I'm concerned, they've hit out of the park with this program," he said.

GRTC has been promising service improvements after being battered by complaints. In the spring, it fired its former provider and brought in a new company to run regular CARE.
And it moved ahead with planning for on-demand service to help ease the demand burden on its regular CARE service.

Still, on-demand was tough to implement. Of the four companies that responded to GRTC's request for proposals, only UZURV was able to meet all of the requirements and standards, according to GRTC spokeswoman Carrie Rose Pace.
Matt Donlon, UZURV co-founder and CEO, said he is committed to making the service work in Richmond so the company can take it to other cities.
GRTC noted that on-demand will need time to develop. Initially, there will be a limited number of rides offered daily on a first-come, first-served basis, and the service will be available only between 7 a.m. and 6 p.m. Monday through Friday, Ms. Pace said.
Service hours could be extended and the number of trips expanded as the program grows, she added.
The regular CARE van service operates seven days a week and runs from 5 a.m. to 1 a.m. for Richmond residents seeking rides within the city and 6 a.m. to 8 p.m. for rides outside the city limits.
Additional benefits of the new service include being able to make reservations up to 30 days in advance and being able to ride solo, Ms. Pace said, instead of sharing with other riders as with the regular CARE service.
CARE-on-demand also will allow riders to take guests, a personal care assistant or a service animal without additional charge, Ms. Pace said.
Riders also can request special accommodations, such as a low-entry vehicle or space for personal items, wheelchairs or walkers.
UZURV also is promising pickups within a 15-minute window, far shorter than the 30-minute window current CARE service promises.
"Both GRTC and UZURV share a mutual commitment to providing safe, effective, efficient and customer-friendly service," said David Green, GRTC CEO.
He heralded the partnership as a 'smart-city' solution that will propel Richmond to the forefront of mobility transportation.
He urged customers to provide feedback on their experience to help GRTC and UZURV improve the program.