Greene going to Cincinnati Reds for record $7.23M bonus
7/28/2017, 6:51 a.m.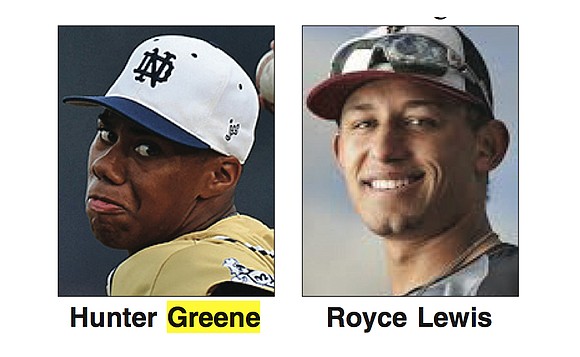 Hunter Greene, the second overall pick in the Major League Baseball draft, has signed with the Cincinnati Reds for a record $7.23 million bonus.
The 17-year-old graduate of Notre Dame High School in Sherman Oaks, Calif., likely will begin his professional career later this summer with the Reds' Rookie League affiliate in Billings, Mont.
A pitcher-shortstop in high school, Greene is likely to concentrate on pitching as a pro.
Greene's contract broke the record bonus of $7,007,500 set just days earlier by pitcher Brendan McKay.
The fourth overall pick, McKay of the University of Louisville will launch his pro career with Tampa Bay's Hudson Valley, N.Y., farm club.
The No. 1 overall pick, outfielder Royce Lewis of Jserra Catholic High School in San Juan Capistrano, Calif., signed for $6.725 million with the Minnesota Twins and will start his career in Fort Myers, Fla.
The third overall pick, pitcher MacKenzie Gore of Whiteville High School in Whiteville, N.C., signed with the San Diego Padres for $6.6 million.
Major League Baseball's minimum salary is $507,500, with an average annual salary of $4.2 million, according to Baseball Reference.
Only about 10 percent of big league ballplayers are African-American. There are many more players of color from the Caribbean and South America, where basketball and football are less popular.
African-American pitchers, especially, are rare on major league diamonds.
Bob Gibson is the only African-American pitcher in the National Baseball Hall of Fame that did not play in the Negro Leagues. He was inducted in 1981.
Satchel Paige, inducted in 1971, was 42 when making his big league debut with the Cleveland Indians.
Leon Day, Bill Foster, Hilton Smith and Andy Cooper made the Hall of Fame based on their Negro League careers.
Other Hall of Fame pitchers of color are Ferguson Jenkins from Canada, Juan Marichal and Pedro Martinez from the Dominican Republic and Cubans Martin Dihigo and Jose Mendez, who played only in the Negro Leagues and in the Caribbean.
Florida native Dwight Gooden likely would have been a Hall of Fame inductee if not for some off-field troubles.
Tampa Bay's Chris Archer and Dellin Betances of the New York Yankees were the only African-American pitchers named to this year's MLB All-Star Game. Betances, who was born in New York City, is the son of parents who immigrated from the Dominican Republic.