Top 2 picks in MLB draft are African-American
6/24/2017, 1:17 p.m.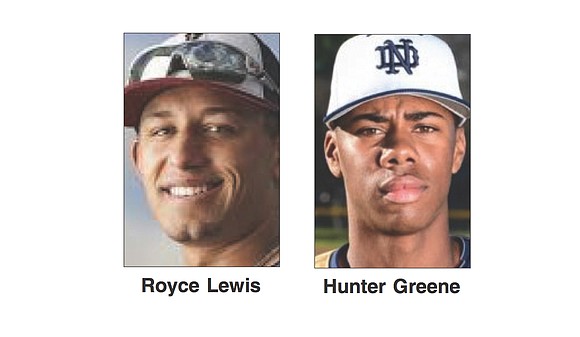 The future appears brighter for African-Americans in Major League Baseball.
The top two overall picks in the June 12 draft were African-Americans from private Catholic high schools in California.
Picking first, the Minnesota Twins selected shortstop/centerfielder Royce Lewis from JSerra Catholic High School in San Juan Capistrano, Calif.
The Cincinnati Reds, with the No. 2 selection, tabbed pitcher/shortstop Hunter Greene from Notre Dame High School in Sherman Oaks, Calif.
Greene appeared on the cover of Sports Illustrated earlier this spring and has been dubbed "The Black Babe Ruth" for his skills as a pitcher and as an every day positional player.
It is uncertain whether the Reds will utilize Greene on the mound or at shortstop.
Also, African-American outfielder Jordon Abell from Kentucky was the 10th overall pick, selected by the Los Angeles Angels.
The San Francisco Giants, the major league affiliate of the Richmond Flying Squirrels, made Heliot Ramos of Puerto Rico its first selection with the 19th overall pick. 
The number of African-Americans participating in big league baseball has dwindled in recent decades.
Only about 10 percent of the MLB players were African-American when the season began.
Historically, among the more noteworthy first overall draft picks were Darryl Strawberry (by the New York Mets in 1980), Alex Rodriguez (by the Seattle Mariners in 1993), Ken Griffey Jr. (by Seattle in 1987) and Virginian Justin Upton (by the Arizona Diamondbacks in 2005).
Upton, hailing from Great Bridge High School in Chesapeake, currently plays for the Detroit Tigers.
The only two-time, No. 1 overall pick was African-American Danny Goodwin, who is also the only No. 1 draft pick from a historically black college or university.
Goodwin was the first overall pick in 1971 out of a Peoria, Ind., high school. He was again the top pick in 1975 following four seasons at Southern University in Baton Rouge, La.