African-American baseball standouts snapped up in MLB draft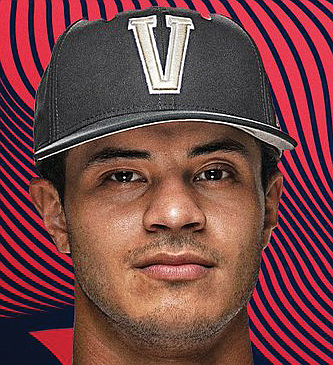 Who will be the Major League Baseball's nextAfrican- American All-Star?
An educated guess might be Austin Martin.
The versatile Vanderbilt University athlete was drafted by the Toronto Blue Jays as the fifth overall pick in the June 10-11 Major League Baseball draft.
A native of DeLand, Fla., Martin led the Southeastern Conference in hitting (.410) and on-base percentage (.486) in 2019, helping Vanderbilt to the College World Series championship.
Also in 2019, he led the NCAA Division I in runs scored — 87 — and was selected to the U.S. Collegiate National Team.
Martin, who started at six different positions for the Commodores, was listed as a shortstop in the draft, but he is just as comfortable at second base or the outfield.
The 21-year-old is leaving the Nashville school following two full seasons and an abbre- viated 2020 campaign because of the coronavirus.
His MLB assigned value rookie salary will be $6,180,700. He could launch his Blue Jays career later this summer when and if MLB play resumes or his debut could be delayed to 2021.
With his strong background at Vanderbilt, which is among the strongest NCAA baseball programs, Martin could go directly to Toronto or possibly serve an apprenticeship with a minor league affiliate.
Baseball is in dire need of African-American headliners. As of April 15, 2019, which is Jackie Robinson Day as com- memorated by MLB, only 68 of 882 players (7.7 percent) on MLB rosters were African- American.
These figures do not count the dozens of talented men of color from the Caribbean and Central and South America.
Help could be on the way.
Martin had some company in this year's first-round MLB picks. Other African-American players who heard their names called in round one of the draft were Ed Howard IV, Jordan Walker and Carson Tucker. Howard, an 18-year-old shortstop from Mount Carmel High School in Chicago, was the 16th overall pick by the Chicago Cubs.
In 2014, Howard starred for Jackie Robinson West out of Chicago, a squad that reached the finals of the Little League World Series in Williamsport, Pa.
Top draft picks out of high school generally spend several years in the minors before mak- ing it to "The Show."
Jordan Walker, a third base-man from Decatur High School in Georgia, was selected 21st overall by the St. Louis Cardinals. The powerful 6-foot-5, 220-pound Walker was Georgia Gatorade Player of the Year and had committed to Duke University before opting for the draft.
Tucker, a 6-foot-2 shortstop from Mountain Pointe High School in Phoenix, Ariz., was picked 23rd overall by the Cleveland Indians. He is the younger brother of Pittsburgh Pirates infielder Cole Tucker.
Tucker committed to the University of Texas prior to placing his name in the draft.
The first overall pick in this year's draft, by the Detroit Tigers, was first baseman Spencer Torkelson out of Arizona State University.
The last African-American picked first overall in the MLB draft was shortstop Royce Lewis in 2017 by the Minnesota Twins. Lewis was drafted out of a Catholic high school in San Juan Capistrano, Calif.
In 2019, Lewis played for the Twins' AA farm affiliate in Pensacola, Fla.
Closer to home, the 2005 overall top pick was Justin Upton out of Great Bridge High School in Chesapeake. Now playing with the Los Angeles Angels, Upton has 298 home runs and 937 runs batted in during a big league career beginning in 2007 with the Arizona Diamondbacks.
The MLB draft began in 1965 with Rick Monday, the very first selection by the Kan- sas City A's. Monday was an outfielder out of Arizona State University.