Teenage shooter involved in infamous D.C. Sniper Case to get new sentencing hearing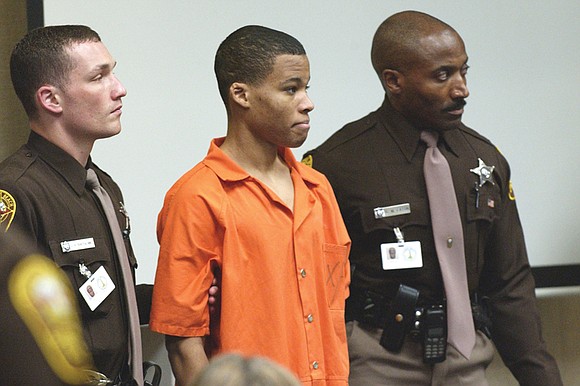 A federal judge tossed out two life sentences for one of Virginia's most notorious criminals, sniper Lee Boyd Malvo, and ordered Virginia courts to hold new sentencing hearings.
In his ruling last Friday, U.S. District Judge Raymond Jackson in Norfolk said Mr. Malvo is entitled to new sentencing hearings after the U.S. Supreme Court ruled that mandatory life sentences for juveniles are unconstitutional.
Mr. Malvo was 17 when he was arrested in 2002 for a series of shootings known as the "D.C. Sniper Case" that killed 10 people and wounded three others over a three-week span in Virginia, Maryland and the District of Columbia, causing widespread fear throughout the region.
His accomplice, John Allen Muhammad, was executed in 2009.
People in Metro Richmond were terrorized by the shootings when a 37-year-old man was shot and critically wounded outside a Ponderosa Steakhouse in Ashland in October 2002. Ballistic tests confirmed that the shooting was linked to the sniper attacks in the Washington area.
Hanover County authorities scoured nearby woods for evidence and discovered a four-page letter demanding $10 million and threatening to kill children.
Days later, a Blackhawk helicopter, SWAT team and scores of federal agents swarmed a gas station on West Broad Street in Henrico County and arrested two men driving a white minivan — like the one described by sniper victims and witnesses — and about to use a pay telephone authorities believed the sniper may have used. There was some relief when the pair turned out to be workers in the wrong place at the wrong time.
Mr. Muhammad and the young Mr. Malvo were arrested Oct. 24, 2002, at a rest stop off Interstate 70 in Maryland, where they were found sleeping in a blue Chevrolet Caprice.
The two were tried in courts in Chesapeake and Virginia Beach, after their trials were moved from Northern Virginia.
Mr. Malvo also was sentenced to life in prison in Maryland for the murders that occurred there. But his lawyers have made an appeal on similar grounds in that state. A hearing is scheduled in June.
Fairfax County Commonwealth's Attorney Ray Morrogh, who helped prosecute Mr. Malvo in 2003, said the Virginia attorney general can appeal Judge Jackson's ruling. If not, Mr. Morrogh said he would pursue another life sentence, saying he believes Mr. Malvo meets the criteria for a harsh sentence.
Michael Kelly, spokesman for Virginia Attorney General Mark Herring, said the office is "reviewing the decision and will do everything possible, including a possible appeal, to make sure this convicted mass murderer serves the life sentences that were originally imposed."
He also noted that the convictions themselves stand and emphasized that, even if Mr. Malvo gets a new sentencing hearing, he could be re-sentenced to a life term.
In 2012, the U.S. Supreme Court ruled that mandatory life sentences for juveniles were unconstitutional. Then last year, the high court applied that case retroactively to sentences issued before 2012.
Mr. Malvo's first trial took place in Chesapeake after a judge agreed to move it from Fairfax because of pretrial publicity. A jury convicted him of capital murder for the slaying of FBI analyst Linda Franklin, who was shot in the head outside a Home Depot store. Under Virginia law, a capital murder conviction requires either a death sentence or life without parole. Prosecutors sought a death sentence, but a jury opted for life in prison.
Mr. Malvo then negotiated a plea bargain in Spotsylvania County and agreed to a life sentence and waived his appeal rights.
The Attorney General's Office argued unsuccessfully that the U.S. Supreme Court rulings should not apply to Mr. Malvo. To begin with, while the jury in Chesapeake only had the option of the death penalty or life without parole, the capital murder statute required them to make specific findings about Mr. Malvo, including a conclusion that he poses a future danger. The state argued that the jury's findings provide the kind of individualized assessment that the U.S. Supreme Court requires to sentence a juvenile to life in prison.
The state also argued that Mr. Malvo knowingly waived his appeal rights when he struck the plea bargain in Spotsylvania County.
In his ruling, Judge Jackson wrote that Mr. Malvo was entitled to a new sentencing hearing because the U.S. Supreme Court's ruling grants new rights to juveniles that Mr. Malvo didn't know he had when he agreed to the plea bargain.
Mr. Malvo has been serving his sentence at Red Onion State Prison in Wise County in Southwest Virginia.