Full appeals court rebuffs McDonnell's request
Jeremy M. Lazarus | 8/13/2015, 2:16 p.m. | Updated on 8/14/2015, 7:48 a.m.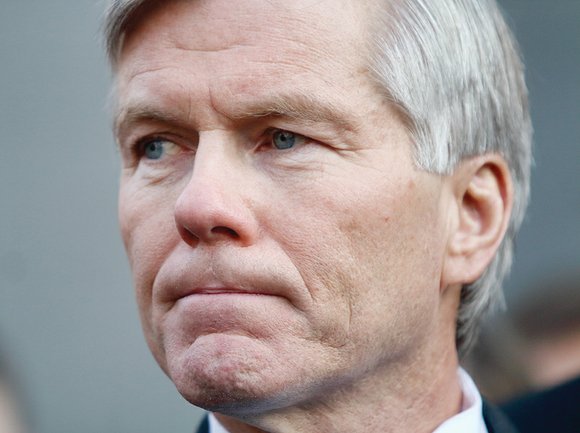 Former Gov. Bob McDonnell is a big step closer to reporting to prison.
Tuesday, as legal experts anticipated, the 15 judges of the 4th U.S. Circuit Court of Appeals issued an order rejecting the former Virginia governor's request to reconsider his conviction on 11 corruption charges.
He had asked the full court to consider his case after a three-judge panel of the Richmond-based court upheld his conviction July 10, finding that he "received a fair trial and was duly convicted by a jury of his fellow Virginians" when his case was heard last year.
According to the court's order, eight of the judges voted against rehearing the case and seven "deemed themselves disqualified and did not participate."
The appeals court allowed Mr. McDonnell to remain free while it considered his request.
The court has not yet issued a mandate closing the case so that the two-year sentence imposed by U.S. Senior District Court Judge James R. Spencer in January would become effective.
The appeals court, in its new order, did not mention whether Mr. McDonnell's bond would be continued. If it is not, he likely would be required to report to a federal prison fairly quickly.

However, his lawyers plan to request that the appeals court allow Mr. McDonnell to remain free while he makes a long shot appeal within 90 days to the U.S. Supreme Court, which does not have to hear his case. The high court takes 100 or fewer cases a year.
Mr. McDonnell still maintains that that he did not violate the law or sell his office when he and his wife, Maureen, accepted gifts and loans worth $177,000 from a businessman seeking state support for his tobacco-based dietary product.
Meanwhile, Mrs. McDonnell remains free while the 4th Circuit considers her appeal of her nine convictions on corruption charges. Her case is to be heard in October. She was sentenced to a year and a day in prison.