Federal appeals court upholds former governor's conviction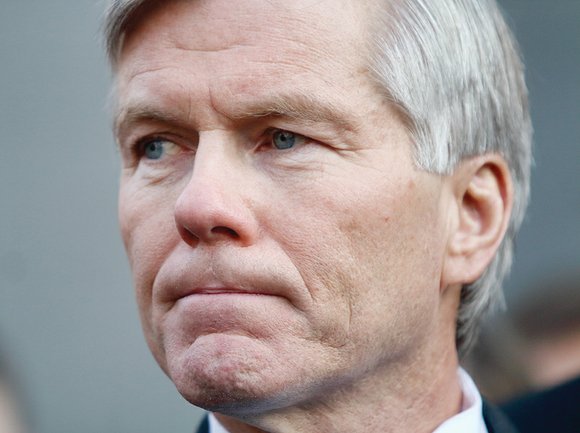 When will former Gov. Bob McDonnell go to prison?
That appears to be the only unanswered question in the case of the once powerful and now disgraced Virginia Republican.
His future behind bars appears almost certain now that the 4th U.S. Circuit Court of Appeals has upheld his conviction on public corruption charges.
"Appellant received a fair trial and was duly convicted by a jury of his fellow Virginians. We have no cause to undo what has been done," Judge Stephanie D. Thacker wrote for the unanimous three-judge panel.
A federal jury convicted Mr. McDonnell and his wife, Maureen McDonnell, in September 2014 on multiple counts of corruption for accepting $177,000 in unreported gifts and loans from businessman Jonnie Williams Sr. for using their influence to aid his dietary supplement company.
U.S. District Court Judge James R. Spencer sentenced Mr. McDonnell in January to a two-year term, but he has been free on bond during his appeal. Mrs. McDonnell was sentenced in February to one year and a day in prison. Her appeal has yet to be heard, and she also remains free on bond.

Ruling July 10 on Mr. McDonnell's appeal, Judge Thacker and her colleagues, Judges Diane Gribbon Motz and Robert King, found that government prosecutors presented sufficient evidence for a jury to conclude that Mr. McDonnell had "corrupt intent."
In the 89-page opinion, Judge Thacker ticked off a series of examples of how Mr. McDonnell acted to benefit Mr. Williams after receiving gifts and loans from him.



Mr. McDonnell has maintained that although he made mistakes, he never took any "official" action to aid Mr. Williams.
Judge Thacker dismissed that argument, writing that the "solicitation or acceptance of the bribe completes the crime, regardless of whether the recipient completes, or even commences, the 'official act' the bribe payer sought to influence."
So far, the U.S. Attorney's Office and the U.S. Marshal's Office have remained mum on when Mr. McDonnell must report to prison.
Mr. McDonnell could ask the full appeals court to hear the case or appeal to the U.S. Supreme Court. The chances of his case being heard, according to legal experts, are considered slim to none.