'Bubba' takes run in NASCAR history
6/16/2017, 1:04 p.m.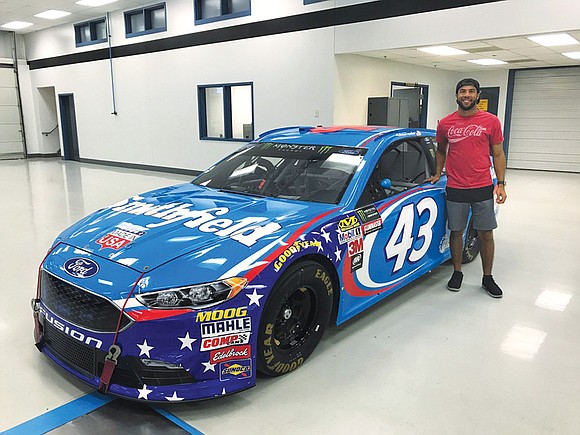 There hasn't been a full-time African-American driver on NASCAR's premier circuit since Virginian Wendell Scott retired in 1973.
Darrell "Bubba" Wallace Jr. hopes to end the drought, and there is optimism he may succeed despite a disappointing race last Saturday in the Pocono 400 in Long Pond, Pa.
Wallace, a 23-year-old native of Mobile, Ala., finished 26th out of a field of 39 racers at Pocono while driving the iconic No. 43 Ford sponsored by Richard Petty Motorsports.
Three times penalized for speeding in the pit area, Wallace was filling in for Aric Almirola, who suffered a back injury in May and isn't expected back until August.
Wallace hopes to have several more chances before Almirola returns. 
The Pocono 400 was Wallace's debut in the Monster Energy Cup — the highest level of NASCAR racing — after several years of success in the lesser Xfinity and Camper Truck divisions.
Wallace had six Top 5 finishes in the Infinity series and was a five-time champion on the Camper circuit.
At last weekend's Pocono 400, early penalties left him with little hope of finishing in the top 10.
"The hardest part today was hugging everyone on the Bubba6 team," he tweeted afterward. "I hate it for them; worked so hard.
"Love my family over there; thanks for it all, guys."
Wallace said no pressure was placed on him by the great Richard Petty, now a team owner who is regarded as one of the top drivers of all time.
"My job is to do the best I can. There's no need to be a superhero. The King (Petty) has told me that multiple times."
Wallace becomes only the fourth African-American to compete on NASCAR's marquee circuit.
He follows Scott, 495 races between 1961 and 1973, Willy T. Ribbs, with three starts on the top circuit in 1986, and Bill Lester, who had two starts in 2006.
While race relations have eased on the NASCAR circuit, Confederates flags still wave at race campgrounds and inside the infield on race days.
Scott, competing on a shoestring budget compared to other drivers, is clearly the top African-American racer of all time. His one, top tier victory in Jacksonville, Fla., in 1963, speaks volumes about the plight of African-Americans in stock car racing.
As Scott crossed the finish line first, the public address announcer proclaimed Buddy Baker the winner. Scott, then, was refused entry to Victory Lane, as officials feared a riot would ensue if the young trophy girl, a white woman, were to give Scott, the winner, a smooch on the cheek, or even a warm embrace, as she presented the trophy.
When official results were revealed, it was true Baker crossed the finish line ahead of Scott. There was only one problem — Baker was two laps behind.