Michael Jordan and Denny Hamlin form NASCAR team with driver Bubba Wallace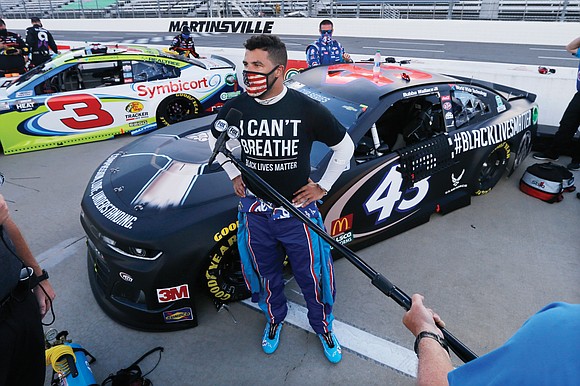 African-Americans may have greater success on the NASCAR circuit thanks to the high-profile pairing of Michael Jordan and Bubba Wallace.
Jordan, the former iconic basketball celebrity, has announced he is forming his own racing team to compete on NASCAR's highest level—The NASCAR Cup series.
He has chosen Wallace, the only full-time Black driver on the circuit, as his behind-the-wheel man.
Joining Jordan in racing team ownership is NASCAR vet- eran Denny Hamlin, who went to Manchester High School in Chesterfield County.
The virtual announcement was made last week from Char- lotte, N.C. The Jordan-Wallace-Hamlin team will debut during the 2021 season.
"Historically, NASCAR has struggled with diversity and there have been few Black owners," Jordan said in a statement. "The time seemed perfect as NASCAR is evolving and embracing social change more and more."
Jordan joins former NBA player Brad Daugherty, a partner with JRG Daugherty Racing, as the only Black owners on the NASCAR Cup level.
Coincidentally, both Jordan and Daugherty starred at the University of North Carolina – Chapel Hill before embarking on their pro careers.
The only other Black team owner was Virginian Wendell Scott, who drove his own car from 1961 to 1973. Scott's 1964 victory at the Jacksonville 200 remains the only win by a Black driver in NASCAR Cup history.
Earlier this year, Jordan pledged $100 million over 10 years for initiatives combating systemic racism. He said the move into NASCAR is "another step toward racial equality."
"I see this as a chance to educate a new audience and open more opportunities for Black people in racing," Jordan said.
Jordan and Hamlin purchased a charter for their team from Germain Racing that guarantees Wallace a spot in the 40-car field every week.
Jordan and Hamlin met 11 years ago at a Charlotte Hornets game and became close. Jordan is also the Hornets' owner.
"Growing up in North Carolina, my parents would take my brothers, sisters and me to races, and I've been a NASCAR fan my whole life," Jordan said.
Jordan dipped his toe into racing before with Michael Jordan
Motorsports. He owned an AMA Superbike team and had one win in 10 years.
Jordan has twice traveled to the NASCAR season finale to watch Hamlin race for the championship.
"The opportunity to own my own race team in partnership with my friend, Denny Hamlin, and to have Bubba Wallace driving for us, is very exciting for me," said the basketball hall of famer.
Wallace, 27, left Richard Petty Motorsports to join forces with Jordan and Hamlin.
"This is a unique, once-in-a-lifetime opportunity that I believe is a great fit for me at this point in my career," Wallace said. "I am grateful and humbled that they believe in me and I'm super pumped to begin this adventure with them."
Wallace is winless in 105 Cup starts over four seasons, but he has six career victories in the Truck Series. Driving the No. 43 car for Petty, Wallace placed 23rd in the 2020 standings, with one top five finish and another top 10.
Hamlin finished second driving for Joe Gibbs Racing. Hamlin will continue to drive for Gibbs while at the same time helping sponsor Wallace.
In a statement, NASCAR welcomed Jordan to the series.
Jordan's "presence at NASCAR's top level will further strengthen the competition, excitement and momentum growing around our sport."
Race fans won't have long to wait to check out the new addition. The 2021 NASCAR season opens Feb. 14 with the Daytona 500.