Golfer Maurice Allen captivates audience on tour
6/16/2017, 1:03 p.m.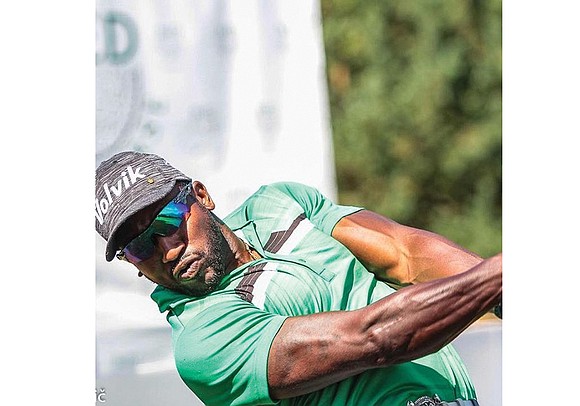 An African-American is among the top golfers in the world. But he's not on the PGA circuit, but rather on the long drive tour.
Few golfers of any description are more entertaining in many ways than muscular Maurice Allen.
The claims to fame of this Pine Hills, Fla., native include the fastest swing in all of golf, a biology degree from Florida A&M University and an endorsement from the Boys & Girls Clubs of America.
Allen, 36, drew attention on June 6 at the Clash in the Canyon, a World Long Drive Association event in Mesquite, Nev.
In advancing to the semifinals, the wide-shouldered, 5-foot-8, 220-pound right-hander walloped a jaw-dropping drive 430 yards with a Kraft F7 COBRA KING wood.
The epic shot traveled over a long stretch of desert and landed on a football field more than 300 yards away, where it rolled and rolled.
The event was covered live by the Golf Channel, with highlights on ESPN.
Allen, who is also a motivational speaker and clearly not intimidated by a live video camera, didn't let the opportunity slip.
Here are a few of his takes that went viral:
"I don't care about NBA finals. I don't care about football. Long drivers are absolutely the best athletes in the world."
Perhaps a bit tongue in cheek, he added, "I shouldn't even be here. I have a dentist (Dr. T.J. Dorsey of Orlando) for a coach. And my swing is so ugly, it's got a hitch like Charles Barkley," referring to the former NBA star's famously comical swing.
On a more serious note, he said, "I wasn't supposed to make it, but by the grace of God, I'm here and I plan to keep on going. I'm going to keep going for the people who have no voice."
He was referring to youth groups he supports, such as the Orlando Minority Youth Golf Association and the Boys & Girls Clubs, which have named him "Ambassador of Golf."
Allen went on to lose in the semifinals at the Clash in the Canyon, but he boasts a glossy résumé featuring seven tour titles since 2011, including the 2015 European Long Drive Tour champion.
Allen currently ranks in the Top 10 on the long drive circuit.
His 430-yard rocket in Nevada was off his best-ever effort of 488 yards in 2016 in Prague, Czech Republic.
The all-time long drive record is 515 yards set by Mike Austin in 1974, but that was before long drivers were required to use shafts no more than 45 inches long — the same as regular PGA players.
By comparison, the longest hitter on the PGA tour this season has been Dustin Johnson. After 43 rounds of tournament play, Johnson was averaging 312.1 yards per drive.
Harold Varner Jr., the lone African-American playing regularly on the PGA tour, ranks 31st in driving distance — 299.3 yards after 69 rounds.
In 2012, Allen flexed his muscles in Orlando, Fla., in a Full-Swing Simulator. The exit speed of his shot was timed at a Guinness Book record 211 mph, shattering the old record of 204 mph.
Allen's club speed for that same test was a remarkable 160 mph.
The World Long Distance tour includes 13 events from March though September. The Volvik Nationals are set for Aug. 31 through Sept. 6 in Thackerville, Okla.
Volvik is a South Korean golfing gear company that helps sponsor Allen.
Long drivers don't just swing for fun and a trophy.
Golfers in Oklahoma will compete for $270,000 in purse money. The Nevada contest had $50,000 in prizes, with $20,000 going to the champion, Ryan Reisback, who eliminated Allen in the semifinals.
Between now and the Volvik Nationals, Allen will be showing off his awesome power in Memphis; Bountiful, Utah; Ontario, Canada; Denver; and for any curious Richmonders, in Hickory, N.C., on Aug. 4 through 6.
If his performance in Nevada is any indication, Allen doesn't figure to disappoint, either on the tee or in the interview room.