Personality: Gigi Amateau
Spotlight on recipient of YWCA's Pat Asch Fellowship for Social Justice
6/16/2017, 12:52 p.m.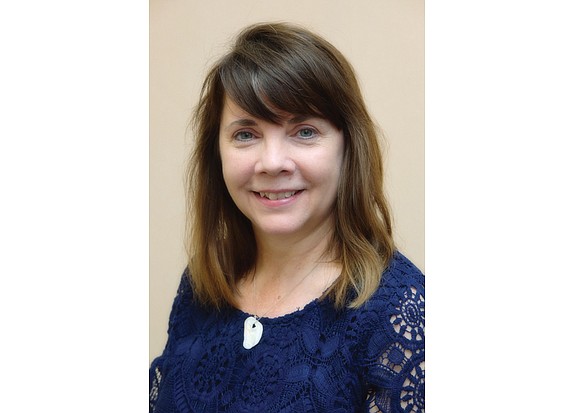 Gigi Amateau was born in Mississippi, the same year President Lyndon B. Johnson signed the Civil Rights Act of 1964. That's the landmark law that outlawed discrimination based on race, color, religion, gender or national origin. Her grandfather, she says, was a minister who spoke against Adolf Hitler in the years leading up to World War II. Growing up during that time and following a family legacy of public service and justice work paved the way for Ms. Amateau to lead a life dedicated to service. She has worked on issues of homelessness, HIV/AIDS, child abuse and eldercare for a variety of organizations, including the United Way, Richmond AIDS Ministry, Virginia Interfaith Center for Public Policy and SeniorNavigator.
Last year, she decided to take her community work a step further and enrolled in a master's program in gerontology at Virginia Commonwealth University.
"I am pursuing a research agenda related to trauma-informed care and resilience for older adults and the long-term care workforce," she says.
Ms. Amateau's dedication to making a difference in the community led her to apply for the 2017 YWCA Pat Asch Fellowship for Social Justice.
She is this year's fellowship winner.
The fellowship is awarded annually to a woman age 50 or older living in the Richmond area who is working to improve social justice in Richmond.
Ms. Amateau says she plans to use the fellowship to learn how trauma impacts the health and well-being of older adults, as well as the long-term care workforce. She wants to develop skills and practices to help elders in the community and long-term care providers, who wind up mostly being women.
"I hope (my work) will result in healthy, happy and well-compensated long-term care providers and healthy, happy older adults who are lovingly wrapped in quality, person-centered care when, and if, they need it," she says.
Ms. Amateau says women live longer. And because of caregiving roles and income inequality, women are more likely to have fewer financial resources in old age, despite the likelihood that they will need long-term care.
"I want RVA to be a great place for everyone to grow old, especially women who have devoted their adult years to providing care," she says.
Ms. Amateau is also the author of several books for children, teens and young adults and is a certified yoga instructor. She says she inherited her grandfather's strength in speaking out against injustice, and attributes her resilience to her grandmother.
"Like my Grammy said, 'You can never give up,' " she says.
Meet this week's Personality and public service promoter, Gigi Amateau.
Latest accomplishment: Recipient of YWCA 2017 Pat Asch Fellowship for Social Justice.
Occupation: Writer, researcher, community advocate.
What I do: I work for the Greater Richmond Age Wave Coalition and Greater Richmond SCAN.
Date and place of birth: Mississippi, 1964.
Current residence: Richmond's Stratford Hills neighborhood.
Family: Husband, daughter and hound dog.
Alma mater: Bachelor's in urban studies and planning from Virginia Commonwealth University.
Reaction when I learned I was selected for the 2017 YWCA Pat Asch Fellowship: I almost fell out when they called me! I burst into tears.