Personality: Tyra Hayes Beaman
Spotlight on Fulbright and Rangel fellowships recipient
7/22/2016, 12:54 p.m.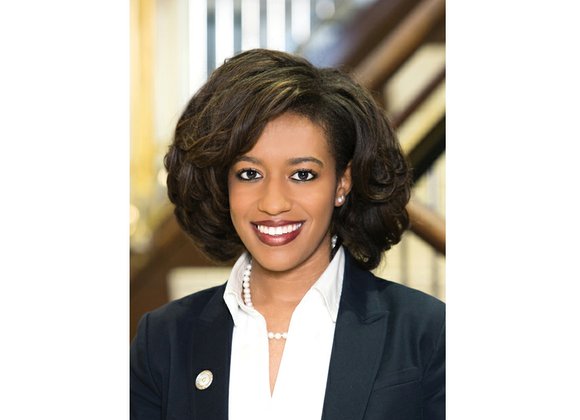 Long before Tyra Zuri Hayes Beaman­­ graduated with honors from Spelman College in May 2016, she was working toward becoming a U.S. foreign service officer by studying abroad in Argentina, Uruguay, Haiti and South Africa.
The Richmond resident has received two new honors that bring her career goal into arm's reach. She is a 2016 recipient of a prestigious Fulbright Fellowship and an equally prestigious Charles B. Rangel International Fellowship.
As a Rangel Fellow, Ms. Beaman, 22, is working on Capitol Hill for Congressman Gregory W. Meeks of New York. In September, she will be a teaching assistant in the Dominican Republic as a Fulbright Fellow. After her 10-month teaching fellowship ends, Ms. Beaman will return to Washington to pursue a master's in foreign service at Georgetown University.
"My efforts to serve as a future foreign service officer will allow me to help show Americans that most nations worldwide can offer and teach us Americans so much more than" what is shown in the media, she says. "The world is such a magnificent place with beautiful people whose stories need to be illuminated and stories that need to be heard."
Ms. Beaman's interest in service, particular among diverse communities, started as a student in the International Baccalaureate program at Henrico High School with leadership roles in the Virginia NAACP Youth and College Division, voter education drives and working to help mentally disabled students become more fully involved in school activities.
Her work continued in Atlanta at Spelman, where she was a Spelman Social Justice Fellow, a Student Government Association officer, a Change Agent Fellow for the Joseph and Evelyn Lowery Institute and vice president of the Feminist Majority Leadership Alliance.
Ms. Beaman, who has received eight other fellowships and scholarships in addition to the Fulbright and Rangel awards, readily acknowledges the importance and impact that fellowships can have.
"Fellowships are access," she says."Throughout my time at Spelman, each summer I had a fellowship that not only introduced me to a new field or sector, but provided me with a community of like-minded individuals that I have continued to (connect with) along my journey."
Her passion, ingenuity and ability to build bridges are among the strengths she brings to both fellowships.
In 2014, she initiated "Difficult Dialogues: Intercollegiate Discussion on Race, Class and Gender" between racially and socioeconomically diverse groups of college students in Metro Atlanta. She built transnational relationships through participating in several study abroad programs. Her experience led her to create Black Beyond Borders, a for-profit company to help prepare African-American students to travel and study abroad.
"Studying abroad and traveling are two of the most important things that a young person in college can do, especially if you're a black American," Ms. Beaman says. "It opens your eyes to not only the possibilities to serve and learn, but it helps offer another narrative to others" about how American identity looks and sounds, she says.
Ms. Beaman says "prayer and meditation" are key for helping to determine her place in life. She encourages anyone who is applying for a fellow to "surround yourself with other recipients of that fellowship."