Personality: Amanda Lewis
Spotlight on Miss Black America Virginia 2016-17
9/30/2016, 7:39 p.m.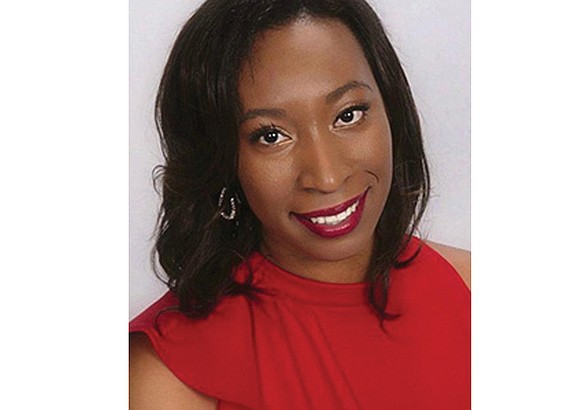 As a child, Amanda Lewis always dreamed of participating in beauty pageants, but never felt that she was "seen as pretty or attractive."
Now, Ms. Lewis is the reigning 2016-17 Miss Black America Virginia.
Her platform: "I AM Loved," a program to build self-esteem and social skills in girls and young women and to address the negative psychological effects of bullying.
The 29-year-old beauty queen and Henrico County resident has a master's degree in counseling and works as a behavioral specialist at Tappahannock Elementary School.
She calls her pageant title, clinched in August, "ironic."
She has learned to understand that beauty is more than skin deep.
"For me, it's not about beauty," Ms. Lewis says. "Rather I want young people to look at me and see that with education, ambition and determination, you can accomplish anything, regardless of what others think and say about you."
After finishing Virginia State University and earning her master's at Regent University, Ms. Lewis began modeling, with success that allowed her to "travel all over the state and abroad" and sparked her interest in competing in pageants.
Last year, she entered the Miss Black Virginia USA pageant. She won.
"I was ecstatic. I didn't think they were going to choose me," she says.
That's when she started her platform, "I AM Loved." She says she was bullied during her time in both Richmond city and Hanover public schools.
She used the same platform this year, when she was crowned Miss Black America Virginia and competed in the national Miss Black America 2016-17 competition on Aug. 20. The competition, held at Temple University in Philadelphia, featured swimsuit, talent and Q&A competitions.
For her talent, Ms. Lewis performed an original spoken word piece, "Beautifully and Wonderfully Made," about a mother who boosts her daughter's self-confidence by telling her that she is beautifully and wonderfully made.
She credits her mother, a divorcée and single parent of three, as someone with the "most positive attitude" who can always steer her children in the right direction.
Although she did not win the national title, Ms. Lewis said the pageant gave her the opportunity to build new relationships and celebrate old ones. That, she says, was the real "win."
"There were six finalists at the national pageant and we continue, to this day, to encourage each other," Ms. Lewis says.
In fact, she says, she and the other finalists are planning to tour universities with the winner, Miss Black America 2016-17 Nicole Lyn Hibbert, to "promote the pageant, to promote black beauty," and remind young people that "black is beautiful."
The relationships Ms. Lewis has built with her "sister queens," as she calls them, have brought to the forefront the power of positive female reinforcement, a practice she hopes to maintain as a sister, teacher, mentor and, of course, as Miss Black America Virginia.
"We may look different than what we see on the media and come in all different shapes and sizes. And although we sometime are not reflected as such in society, we are beautiful," she says.
Meet a role model for positivity and beauty and this week's Personality, Miss Black America Virginia 2016-17 Amanda Lewis:
Latest accomplishment: Miss Black America Virginia 2016-17.
Education: Bachelor's degree in psychology, Virginia State University, 2009; master's degree in counseling, Regent University, 2013.
Occupation: Mental health counselor.
Family: I have one older brother and one older sister. My Dad's family is from Ashland and my Mom's family is from Richmond.
First reaction to selection as Miss Black America Virginia 2016-17: I was so excited! I called my parents and friends to share the great news. I was texting and calling my friends the whole way back to Richmond from Philadelphia. 
Reaction of family: My family is very proud of me. My dad tells everyone that I'm Miss Black America Virginia every chance that he gets. My mother's reaction was, "That's my baby!" My big brother told me for the first time in my life that he was proud of me. He said he always knew that I would be some kind of model because of my height.
Foremost reason I became a contestant: The main reason was to inspire others to live their dreams. I don't ever want to look back and wonder, "What if …" 


My pageant platform: My platform is called "I AM Loved." It discourages bullying and all forms of abuse. I aim to educate people on the negative effects of treating one another poorly, which includes poor mental and emotional health. I want to empower, build self-esteem and improve relationships between people. 


Strategy for winning: I honestly just put my best foot forward. I shared everything that I was doing positive in the community when I applied for the state title. I wanted to be creative with my title at the national competition by writing my own poem. It came straight from the heart and my personal experiences. 


Title prizes: As the winner of the state title, I won a sash and crown, and the ability to schedule my own appearances, promote my platform, and for my voice to be heard. There's also the benefit of making connections with some of the most powerful and influential people in the world, including celebrities.
What title requires: The title requires one to be an educated, positive woman who is looking to improve her community and advocate for a specific issue. 


View of pageants: I believe that pageants are positive. They teach us how to do research, communicate with others, articulate our thoughts, serve others and to be well-rounded women. Most importantly, pageants teach us to love ourselves despite us all appearing different.   


How and when I got interested in them: I first became interested in pageants when I was in elementary school. I saw the light that pageant queens brought into their communities and I wanted to do the same. My first pageant was a teen pageant when I was 17. I had a blast and met so many great girls!
Pageant winner I admire most and why: I admire Vanessa Williams the most because she was so beautiful and she did not stop pushing forward after she won her crown. She became a successful actress and has done other great things as well. 


Nobody knows I'm: Interested in learning photography.
Best late-night snack: I enjoy anything with chocolate in it — cookies, ice cream, cake!
A really great evening for me: I really like staying in with friends, watching movies and cooking dinner. 


Hobby: Anything that has to do with visual and performing arts. I write stories and poems, dance and draw. 

My heroine: Mariah Carey.
Best thing my parents ever taught me: Be respectful to your elders and you will live long. 


Book that influenced me the most: "Abandonment and Rejection" by Linda Lange.
Book I'm reading now: "Battlefield of the Mind" by Joyce Meyer.
Next goal: To get licensed as a professional counselor.