Personality: Amanda Lewis
Spotlight on Miss Black America Virginia 2016-17
9/30/2016, 7:39 p.m.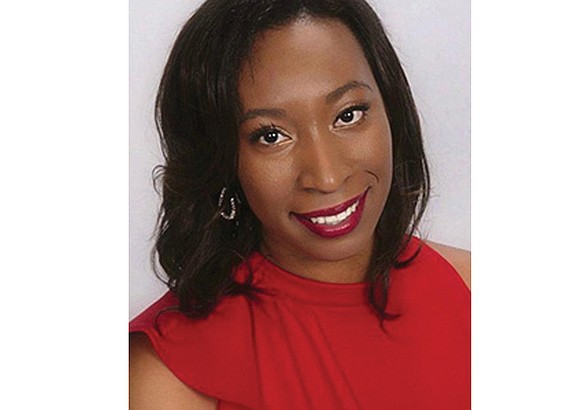 As a child, Amanda Lewis always dreamed of participating in beauty pageants, but never felt that she was "seen as pretty or attractive."
Now, Ms. Lewis is the reigning 2016-17 Miss Black America Virginia.
Her platform: "I AM Loved," a program to build self-esteem and social skills in girls and young women and to address the negative psychological effects of bullying.
The 29-year-old beauty queen and Henrico County resident has a master's degree in counseling and works as a behavioral specialist at Tappahannock Elementary School.
She calls her pageant title, clinched in August, "ironic."
She has learned to understand that beauty is more than skin deep.
"For me, it's not about beauty," Ms. Lewis says. "Rather I want young people to look at me and see that with education, ambition and determination, you can accomplish anything, regardless of what others think and say about you."
After finishing Virginia State University and earning her master's at Regent University, Ms. Lewis began modeling, with success that allowed her to "travel all over the state and abroad" and sparked her interest in competing in pageants.
Last year, she entered the Miss Black Virginia USA pageant. She won.
"I was ecstatic. I didn't think they were going to choose me," she says.
That's when she started her platform, "I AM Loved." She says she was bullied during her time in both Richmond city and Hanover public schools.
She used the same platform this year, when she was crowned Miss Black America Virginia and competed in the national Miss Black America 2016-17 competition on Aug. 20. The competition, held at Temple University in Philadelphia, featured swimsuit, talent and Q&A competitions.
For her talent, Ms. Lewis performed an original spoken word piece, "Beautifully and Wonderfully Made," about a mother who boosts her daughter's self-confidence by telling her that she is beautifully and wonderfully made.
She credits her mother, a divorcée and single parent of three, as someone with the "most positive attitude" who can always steer her children in the right direction.
Although she did not win the national title, Ms. Lewis said the pageant gave her the opportunity to build new relationships and celebrate old ones. That, she says, was the real "win."
"There were six finalists at the national pageant and we continue, to this day, to encourage each other," Ms. Lewis says.
In fact, she says, she and the other finalists are planning to tour universities with the winner, Miss Black America 2016-17 Nicole Lyn Hibbert, to "promote the pageant, to promote black beauty," and remind young people that "black is beautiful."
The relationships Ms. Lewis has built with her "sister queens," as she calls them, have brought to the forefront the power of positive female reinforcement, a practice she hopes to maintain as a sister, teacher, mentor and, of course, as Miss Black America Virginia.
"We may look different than what we see on the media and come in all different shapes and sizes. And although we sometime are not reflected as such in society, we are beautiful," she says.