Personality: Gabrielle E. Wilks
Spotlight on Miss Black Virginia USA 2020
8/16/2019, 6 a.m.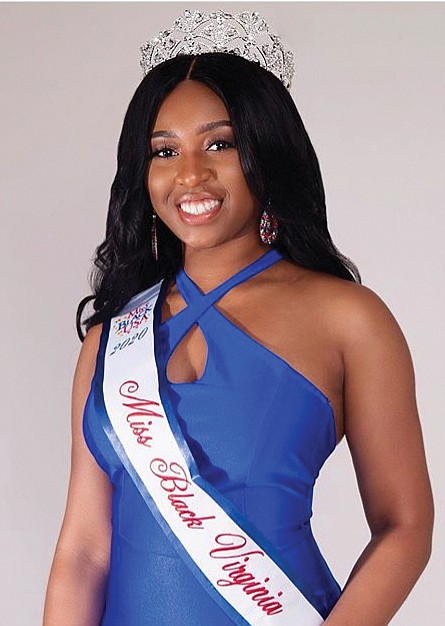 The 2020 Miss Black Virginia crown goes to Gabrielle E. Wilks.
These were the welcoming words Ms. Wilks received in April, via phone, from the Miss Black USA National Recruitment Team, representing the official preliminary to the Miss Black USA Pageant.
The news came at a time when 20-year-old Ms. Wilks was in the throes of taking final exams at Virginia State University. Virginia's newly crowned queen was excited and surprised when she received the call.
However, the excitement did not stop there. She FaceTimed her mother, Janies Wilks, to tell her about the accomplishment and her mother's emotions escalated.
"She was off the wall, and was going to post the information on Facebook," Ms. Wilks says. "I had to tell her not to post it because she was not allowed to announce it until July 3."
Then she FaceTimed her grandmother, who was driving home after choir rehearsal. Her reaction: "There was screaming in the car and a lot of congratulations."
The reaction didn't stop with her family. The reaction on VSU's campus shocked her as well. There was a post on the university website. "Their reaction was over the moon because the student body, especially my friends, were more excited than I expected," she says.
Ms. Wilks' platform focuses on generational health. "The way we take care of our bodies is passed down, much like generational wealth. We use recipes from generations ago, based on our great-grandmothers' cooking, while not realizing how that affects your body," she says.
"My purpose is for black people to take an active role in their health and realize that health is more than a doctor visit. Health is mental, emotional, spiritual and physical."
During Ms. Wilks' reign, all events featuring Miss Black Virginia will include a health component. On Sept. 1, Illusions Barbershop's annual back-to-school drive, "Shaping Up Our Future" at the Petersburg YMCA, will provide students with free haircuts and backpacks. Doctors also will donate their services for health checkups to prepare elementary students for school.
Ms. Wilks, a first generation Jamaican-American, is a senior and presidential scholar from Douglasville, Ga., by way of Brooklyn, N.Y. She is pursuing a double major in biology and mathematics. She has a 3.6 GPA.
In 2018, she was named VSU's Outstanding Sophomore of the Year and represented the university at the prestigious Goldman Sachs HBCU Leadership Summit in New York.
At VSU, Ms. Wilks has been a uniting figure, focusing on civic engagement and community involvement. Her pioneering "Annual Women's Tea" gives young women an opportunity to focus on the importance of determining their personal brand and embracing purpose through fellowship over food, games, giveaways, etiquette advice and guest speakers.
She also established the first VSU "Men's Appreciation Week," focusing on important priorities for young men to emphasize their mental, physical, spiritual and emotional well-being.
Ms. Wilks also worked on projects impacting the university and the communities of Ettrick, Petersburg and Colonial Heights, including the Petersburg School Board and business back-to-school drive; a prostate cancer awareness rally; and a Thanksgiving food drive to provide meals for 40 families.
She has spearheaded STEAM DAY when elementary and middle school students visit VSU for an interactive event to learn how science, technology, engineering, agriculture/art and math play into their everyday lives.
Earlier in April, before earning the Miss Black Virginia title, Ms. Wilks narrowly lost the Miss VSU contest. "The latter crown serves as a testimony to the fact that when one door closes another opens," she says. "That is due to my perseverance and determination to keep going no matter the circumstances."
Ms. Wilks is now eligible to compete in the Miss Black America Pageant, which was established by Philadelphia entrepreneur J. Morris Anderson in 1968 to challenge widespread negative stereo-types associated with black people in the United States.
As she prepares for her Miss Black Virginia 2020 reign, Ms. Wilks wants Virginians, especially young people, to understand, "No matter what obstacles are facing you in life, how you choose to respond to it, your optimism and your positivity in those situations, will drive your success."
Meet Virginia royalty and this week's Personality, Gabrielle E. Wilks:
Date and place of birth: Oct. 23 in Brooklyn, N.Y.
Current residence: Doug- lasville, Ga.
Education: Senior at Virginia State University majoring in mathematics and biology.
Family: I'm a first generation Jamaican-American. My family moved to the states from Kentish, St. Catherine in Jamaica.
First reaction to selection as Miss Black Virginia 2020: Very excited! It showed me that I could do more than I thought I could as long as I trust God, believe in myself and surround myself with people who believe in me.
Foremost reason I became a contestant: In a world where we are dominated by the social norms of a European America, I believe it is important to support and participate in pageants made for us, by us. The importance of the black pageant systems is just as relevant as the importance of HBCUs today. If we can't support our own, then who will?
My pageant platform: My year of service will focus on equal financial opportunities in education and my platform, "Generational Health." I want to be an inspiration not only to the youths, but the people surrounding them who also look for inspiration. The purpose of Generational Health is to encourage the active participation of African- Americans in healthy lifestyles, thus breaking generational curses that plague familial health physically, emotionally and mentally.
Strategy for winning: Much like a chef, a Queen never shares her secret recipe!
Date and place of national competition: August 2020 in Washington, D.C.
How I view national competition: It absolutely builds character.
What Miss Black Virginia title requires: This Miss Black Virginia title requires presence. Our reign is truly what we make of it, and how we choose to execute our platform is solely up to us.
View of pageants: Back in the day, I probably wouldn't have been comfortable participating because it was very much based on the physical. But today, women have arrived. We are showing that we are more than our looks. Our brains look just as good, and our hearts are even more beautiful.
How and where I got interested in pageants: I became interested in pageantry when I started school at VSU. Campus life has always been dominated by the social organizations and a lot of our social organizations choose their queens based on pageantry.
Career goal: To become the director of Grady Memorial Hospital of Atlanta, where I will prioritize better health care opportunities for the underrepresented population and focus on employment that will help close the cultural gap being faced in medicine today.
Outlook at start of the day: How do I make today better than the day before.
How I unwind: Binge watching Netflix Spanish dramas and spending time with family and friends, usually over crab legs. LOL!
A quote that I am inspired by: "Be the inspiration that drives the future to be greater."
Something I love to do that most people would never imagine: I love housework. There's something about cleaning and DIYs that is very therapeutic to the soul.
At the top of my "to-do" list: Finish my summer class in genetics at the University of New England.
Best late-night snack: Talenti raspberry and white cherries.
If I had more time, I would: Travel more.
The best thing my parents ever taught me: The power of having faith in God, speaking life and to love those who speak evil against you.
Person who influenced me the most: I can't credit my upbringing to just one person. It takes a village, so my biggest influence is my loving family.
The book that influenced me the most: "To Sir With Love" by Sidney Poitier.
What I'm reading now: "The History of the Black Dollar" by Angel Rich.
My next goal: Accepting job offers from Big Four companies after graduation and getting into an online graduate program at an HBCU for a master's in public health administration and an MBA.