Virginia Beach woman wins Miss USA crown, stirs controversy
5/19/2017, 9:05 p.m.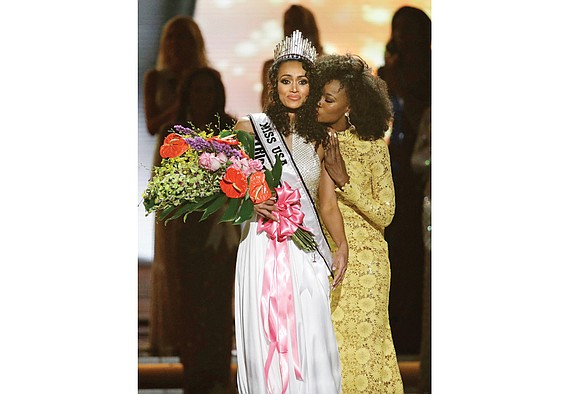 Miss District of Columbia USA Kara McCullough was named Miss USA 2017 during the annual pageant held Sunday in Las Vegas.
Little did the 25-year-old scientist from Virginia Beach know that after triumphing over 50 other contestants, her crown would come with controversy. Her first days as Miss USA have been spent trying to put out the flames that her words ignited.
It all started during the Q&A portion of the pageant, when contestants must show off their poise and knowledge in answering questions related to current events.
Ms. McCullough, who graduated with a degree in chemistry from South Carolina State University and now works at the Nuclear Regulatory Commission, was asked whether she considered affordable health care for all United States citizens a right or a privilege. 
"I'm definitely going to say it's a privilege," she answered Sunday night. "As a government employee, I am granted health care and I see firsthand that for one to have health care, you need to have jobs."
During another question-and-answer round, she was asked her opinion on feminism and if she considers herself a feminist.
She responded that she would like to exchange the term for "equalism."
"I don't want to consider myself like this die-hard, you know, like, 'I don't really care about men,' " she continued. "One thing I'll say, women, we are just as equal as men when it comes to opportunity in the workplace."
When she won, social media blew up over her answers to the pageant questions, particularly the notion that health care should be tied to a job.
On Tuesday morning, she went on ABC TV's "Good Morning America" to respond to the mounting backlash. In talking with host Michael Strahan, she shifted her earlier stance.
"I am a woman. I'm going to own what I said," she told Mr. Strahan. "I am privileged to have health care, and I do believe that it should be a right. And I hope and pray moving forward that health care is a right for all worldwide.
"I am privileged to have health care. I want people to see where I was coming from. Having a job, I have to look at health care like it is a privilege," she continued.
With regard to feminism, Ms. McCullough said she wanted to be clear that women should get the recognition they deserve.
"I don't want anyone to look at (it) as if I'm not all about women's rights because I am," Ms. McCullough said on the show Tuesday. "We deserve a lot when it comes to opportunity in the workplace as well as leadership positions. I've seen and witnessed firsthand the impact women have."
As Miss USA, Ms. McCullough will go on to represent the United States in the Miss Universe pageant.
This is not the first crown for Ms. McCullough, who was born in Naples, Italy, to a military family. She was crowned Miss South Carolina State University at the historically black college in Orangeburg in April 2012.
She is the second consecutive Miss District of Columbia to win the Miss USA pageant. Deshauna Barber, a 2011 graduate of Virginia State University and commander in the Army Reserve, was Miss USA 2016.
Ms. McCullough said she wants to inspire young people to pursue careers in the STEM fields.