VSU grad crowned Miss USA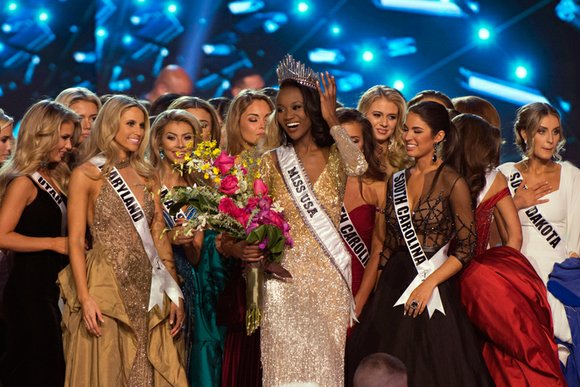 Deshauna Barber has brains and beauty, and she's a commander in the Army Reserve to boot.
The 2011 Virginia State University graduate now adds another title: Miss USA 2016.
Miss Barber, 26, who represented the District of Columbia in Sunday's pageant at the T-Mobile Arena on the Las Vegas strip, beat contestants from 50 states to win the crown.
She will go on to represent the United States in the annual Miss Universe pageant later this year.
Miss Barber is the first military member to win Miss USA. She drew on her military background to cinch the win, her answers to questions during the pageant scoring high with the judges and the applauding audience.
Another contestant with Virginia ties, Dr. Desiree J. Williams, was among the 10 finalists.
Dr. Williams, 26, who is Miss Virginia USA, is an assistant professor of physical therapy at Hampton University and interim director of the William R. Harvey Leadership Institute at HU.
Miss Barber graduated from VSU's Reginald F. Lewis College of Business with a degree in business management and works as an information technology analyst with the U.S. Department of Commerce in Washington. The newly crowned beauty queen also is a logistics commander for the Army Reserve's 988th Quartermaster Detachment Unit at Fort Meade, Md.
"We are exceedingly proud to have a Trojan represent the U.S.A. in this capacity," VSU President Dr. Makola Abdullah said in a statement issued after the pageant.
"Deshauna exemplifies scholarship, leadership and inner strength. She is a role model for all students."
When asked during the pageant about the role of women in combat, Miss Barber commended the Pentagon's recent decision to open up all combat jobs to women.
"As a woman in the United States Army, I think it was an amazing job by our government to allow women to integrate into every branch of the military," she responded. "We are just as tough as men.
"As a commander of my unit, I'm powerful, I am dedicated, and it is important that we recognize that gender does not limit us in the United States Army."
Miss Barber also hit a home run when answering a final pageant question about the meaning of the words "confidently beautiful."
"To me 'confidently beautiful' means understanding that it's not always about your appearance," she said. Serving in the military has taught me that being confidently beautiful is about being able to earn respect from people regardless of what you look like."
Miss Barber said she plans to use her title to support veterans' causes and tackle the issue of suicide and post-traumatic stress disorder among military members.
When asked during the pageant what message she had for the presidential candidates — including former Miss USA pageant owner and presumptive Republican nominee Donald Trump — Miss Barber, who wore a glittering gold gown, said the candidates should focus more on veterans' issues, including the backlog at veterans hospitals.
Miss Hawaii, Chelsea Hardin, was named first runner-up, while Miss Georgia, Emanii Davis, was selected as second runner-up.