Did Miss Jamaica's hair cut short her chance?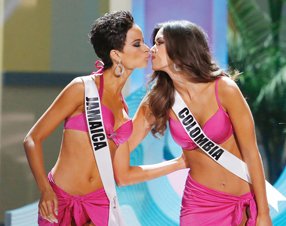 MIAMI
Halle Berry won an Academy Award for her dramatic role in the 2002 movie "Monster's Ball" with a beautiful, short hairstyle.
So why, an astonished audience at Sunday's Miss Universe Pageant protested, didn't their overwhelming favorite win?
Their favorite: Short-haired beauty Miss Jamaica, 22-year-old Kaci Fennell.
Ms. Fennell stood out with her short, spiky haircut and feisty personality. When she was announced as fourth runner-up, a loud chorus of boos erupted from the audience.
Instead, the crown went to relative pageant newcomer, Miss Colombia Paulina Vega, who, like many of the contestants, had long flowing locks.
She beat out first runner-up, Miss USA Nia Sanchez and contestants from more than 80 other countries.
Michael Fennell said his granddaughter was the victim of "unwritten factors" and that the judges should have stated if Miss Universe needed to have long hair.
He said, "If short hair is a problem, why didn't they say so in the contest?"
"I don't have long tresses like everyone else," said Ms. Fennell, who wore a long, red beaded evening gown. "I'm just representing myself, and that's what beauty pageants are all about. You don't have to look a certain way ... and I feel like I represent that."
Meanwhile, Ms. Vega, a 22-year-old business administration student from Barranquilla, Colombia, said she would wear the crown with "pride and excitement" as she heard the news that fans in Colombia had taken to the streets to celebrate.
Although she was far from home, Ms. Vega said she still felt the support from local Latinos.
"It felt like home. I felt like I was in Colombia with my people. I felt that support in every moment of the pageant," she said, wearing a sparkling silver gown with vertical stripes at a news conference after the competition.
Real estate mogul and reality TV star Donald Trump, who owns the pageant, said many predicted Ms. Vega would take the crown a few weeks ago when contestants first arrived in Miami for the festivities.
"From the minute she walked in the building, people said, 'She's a star,' " Mr. Trump said.
Ms. Vega's win keeps the crown and title with Latinas. The last reigning Miss Universe, Gabriela Isler, was from Venezuela.
Beauty pageants are big business in Latin America, where girls are groomed for the contests from a young age and where Ms. Vega said women find "a lot of pride" in representing their country.
Pageants and performance run in Ms. Vega's family. Her grandmother, Elvira Castillo, was Miss Atlántico 1953 (Colombia) and her grandfather is legendary tenor Gastón Vega.
But the contests leading up to Miss Universe were a first for Ms. Vega, who is one of eight children. She also said they would be her last, as she is eager to return to her business studies, saying: "It gives me independence. I want to have my own company."
After Ms. Sanchez, the 24-year-old Miss USA from Las Vegas, Nev., the second runner-up was Miss Ukraine Diana Harkusha. Ms. Fennell and Miss Nether- lands Yasmin Verheijen rounded out the top five from the field of 88 contestants.
As Miss Universe, Ms. Vega will receive an undisclosed salary, a luxury apartment in New York, a wardrobe, beauty products and a one-year scholarship from the New York Film Academy.