Harvey to host again despite big blunder
12/25/2015, 12:56 a.m.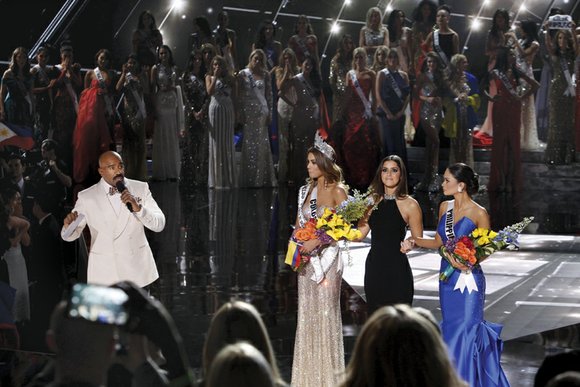 Free Press wire reports
LAS VEGAS
The Miss Universe pageant was going great until the host, popular comedian Steve Harvey, made a big mistake.

He already had announced Miss Colombia as the winner last Sunday, and she already was wearing the crown.
And then he reread his cue card and had to return to the stage to announce on live television that Miss Philippines actually was the winner.
In the following moments, the crown was removed from Miss Columbia and placed on the head of Miss Philippines Pia Alonzo Wurtzbach as other contestants rushed to console Ariadna Gutierrez Arevalo of Colombia.
''I feel horrible,'' Mr. Harvey said afterward.
The pageant's contestant from the United States, Olivia Jordan, was named second runner-up, just before the snafu.
Miss Wurtzbach appeared stunned as she walked to the front of the stage alongside the crown-wearing Miss Arevalo. Then, Miss Universe 2014, who also is from Colombia, removed the crown and placed it on Miss Wurtzbach's head.
''I did not take the crown from her,'' Miss Wurtzbach told reporters after the pageant concluded, saying she wished the contestant from Colombia well and hoped the Latin American community understands that ''none of this was my fault.''
Shortly after Sunday night's confusion, Colombian President Juan Manuel Santos tweeted a message on his official account to Miss Arevalo: ''For us, you will continue being Miss Universe! We are very proud!''
Philippines presidential spokesman Edwin Lacierda didn't address the controversial win in his congratulatory statement. ''In bagging this victory, Ms. Wurtzbach not only serves as a tremendous source of pride for our people, but also holds up the banner of our women and of our country as a true representative of what the Filipina can achieve.''
Mark Shapiro, chief content officer of the company that owns the Miss Universe Organization, told the Jim Rome Show that he'd love to have Mr. Harvey back as host next year.
"He was funny, he was informative, he's high energy, he's got a great following," he said. "He's going to want a shot to redeem himself."