Personality: Gigi Amateau
Spotlight on recipient of YWCA's Pat Asch Fellowship for Social Justice
6/16/2017, 12:52 p.m.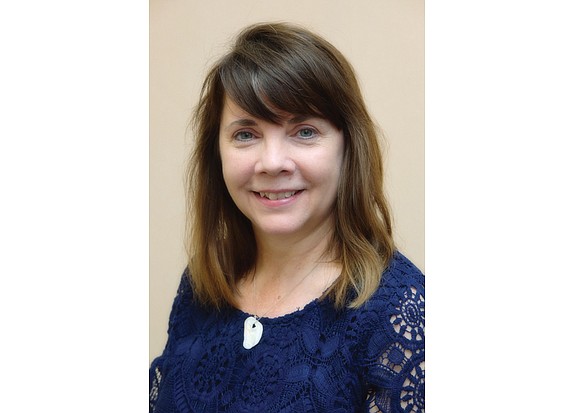 Meaning of fellowship to me: It's affirming a major decision and transition for me, at age 52, to return to school and concentrate on my community work.
What public service means to me: I believe public service encompasses how we care for ourselves and how we care for all living beings. I hope that in my public and private lives, I play a role of advocating for an RVA that is caring, inclusive, equitable and prosperous for all of us.
Volunteer service: I currently serve on the board of directors of the Virginia Children's Book Festival and on the James River Writers Advisory Board. My past board service includes Home Again, Housing Families First and CARITAS.
Why I applied for the fellowship: Pat Asch gave us a radiant legacy of standing up for equality and opportunity for all and of making our community a better place for women. I believe long-term care providers (certified nursing assistants, home health aides, personal care attendants) are undervalued, under supported and often go unnoticed. Similarly, our cultural norms tend to de-value and shame people in old age. I'm interested in disrupting the intersecting dominant narratives of racism, sexism and ageism that block the creativity, wisdom and strength possessed by care providers and older adults.
Impact I hope to have: I hope to join with smart, inspiring and creative people in transforming how our society treats long-term care providers and older adults.
How this relates to YWCA's mission: The YWCA's motto of eliminating racism and empowering women relates directly to the focus of my Pat Asch Fellowship project. The long-term care workforce is comprised of 90 percent women and the majority are women of color.
Three words that best describe me: Curious, optimistic and collaborative.
How I start the day: On waking each morning, I offer a prayer and a vow, "Here are my hands; here is my heart." I first encountered these words, which have come to anchor me in the power of this place where we live and the values that I espouse, when I was researching my book "Come August, Come Freedom" about Gabriel, the blacksmith and freedom fighter, who organized enslaved and free men in 1800 in an effort to end slavery. History shows that recruits into Gabriel's army offered this vow as they stepped up.
Hobbies: Gardening, hiking, reading, bird watching and drinking hard cider.
Best late-night snack: Popcorn and dark chocolate.
Prized possession: Two composition notebooks filled with my granddaddy's handwritten sermons from 1936 and 1937, when he was newly ordained and preaching against the rise of Hitler.
Nobody knows I'm: A pretty good swearer. Just kidding, everybody knows that!
The best thing my parents ever taught me: My parents allowed me to explore my environment unencumbered and to make big mistakes. I think, as a result, I am curious and purposeful.
The one thing I can't stand: Public policy that is punitive, inhumane and bigoted.
Persons who influenced me the most: My grammy and granddaddy.
Book that influenced me the most: "The Known World" by Edward P. Jones.
What I'm reading now: "Parable of the Sower" by Octavia E. Butler.
Next goal: To finish up these two books I've been working on for a while.