Groundbreaking for Capitol Square's new Native American monument June 24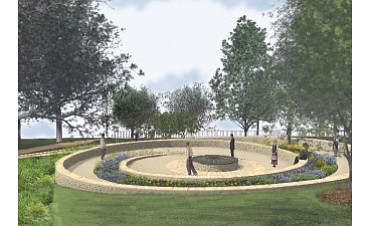 Virginia's Native Americans are moving closer to gaining their own monument in Capitol Square.
Eight years after the monument was first envisioned, a public groundbreaking ceremony for the Virginia Indian Tribute will be 10 a.m. Saturday, June 24, on the State Capitol grounds at 9th and Grace streets.
Olympian Billy Mills, a founder and spokesman for the nonprofit Running Strong for American Indian Youth, is to be the featured speaker at the event.
A member of the Oglala Lakota tribe, Mr. Mills is best known for winning the gold medal in the 10,000-meter run in the 1964 Olympics.
The program will spotlight the proposed monument, titled "Mantle," whose purpose, according to the Virginia Indian Commemorative Commission, is to recognize the "the lasting legacy and significance" of the original people of the state.
The commission and the Virginia Capitol Foundation, which is raising the estimated $900,000 needed for Mantle, are hosting the event.
The groundbreaking is an effort to call attention to the project and attract more donors. Construction is to start when the full amount is raised from private contributions.
To date, donors have contributed about $400,000, the foundation reports.
When built, Mantle will be different from the busts and statues now in Capitol Square. The tribute will be shaped like a nautilus shell and feature a 5-foot winding footpath that will rise from and return to the earth, according to the commission's description.
The monument also will feature a continuous stone wall that will serve as a bench, along with a pool, plants and other elements significant to Virginia's indigenous tribes and the state.
Alan Michelson, a Mohawk installation artist, said he designed Mantle to be a meditation space for visitors.
"Mantle invites one to enter — from the east — and participate in it. It is not conceived as a static monument to be venerated, but an active one to be experienced by moving off the everyday grid and into the American Indian circle."
The commission got its start in 2009 during the administration of Gov. Tim Kaine, who also led efforts to create the Civil Rights Monument that pays tribute to Barbara Johns, Oliver W. Hill Sr., Spottswood W. Robinson III and others who fought to end segregation in state schools and was the first tribute to African-Americans on the Capitol grounds.
How soon the monument will be installed will depend on the success of fundraising.
"We're excited with the momentum and progress we've made so far," said Colleen Dugan Messick, executive director of the Virginia Capitol Foundation, but more is needed to reach the goal.