Ribbon-cutting for Native American monument April 17
3/16/2018, 12:31 p.m.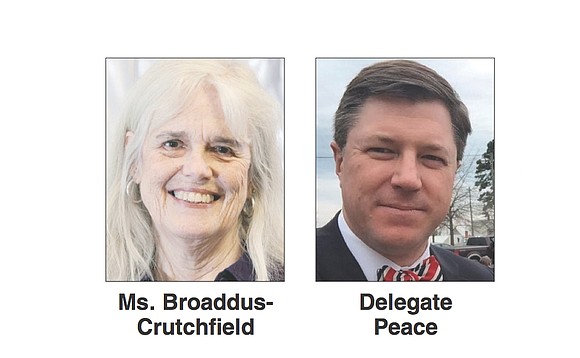 By Yasmine Jumaa
Capital News Service
After years of planning and several months of construction, a monument honoring the lives, legacy and achievements of Native American tribes in Virginia has been completed and now stands on the grounds of the state Capitol.
State officials are planning a ribbon-cutting for the monument on Tuesday, April 17.
"I think everyone who has seen it is very much in awe and approves of what has been installed," said Delegate Christopher Peace, R-Hanover, vice chairman of the Virginia Indian Commemorative Commission.
The monument, titled "Mantle," gets its name from Powhatan's Mantle, a deerskin cloak said to be worn by the Native American chief. Its spiral shape was inspired by the nautilus, the self-replicating living fossil. Commission member Frances Broaddus-Crutchfield said the design symbolizes the endurance of Native American tribes.
"We wanted natural materials but also something that would endure, and that's how we came up with stone," Ms. Broaddus-Crutchfield said. "Once you get to the center of it, there's a meditation area with an infinity pool."
Engraved on the infinity pool are the names of the rivers in Virginia that have Native American names, such as Appomattox and Nottoway.
After reviewing submissions from several artists, Ms. Broaddus-Crutchfield said the commission appointed Mohawk installation artist Alan Michelson to create "Mantle."
Mr. Michelson described the monument on the commission's website:
"[Mantle] requires the visitor to neither look up nor look down, but invites one to enter — from the east — and participate in it. It is not conceived as a static monument to be venerated but an active one to be experienced by moving off the everyday grid and into the American Indian circle."
Funding for "Mantle" came from the Running Strong for Indian Youth Foundation, as well as from private contributions and other fundraising efforts. Commission officials said the monument cost almost $1 million.
"The Capitol Square Preservation Council and the Virginia Capitol Foundation have been masterful in the fundraising efforts — the most generous of which has come from members of our own commission," Delegate Peace said.
The ribbon-cutting ceremony will be open to the public, Delegate Peace said at a recent commission's meeting. Gov. Ralph S. Northam, who chairs the commission, and leaders of Virginia's Native American tribes are expected to attend.
While the monument has brought praise, one Virginia tribal leader said he is more focused on daily challenges.
"We have a good relationship with the state, but our focus is — now being a federally recognized tribe — working on economic development for our members to help in education, health care and housing," said Brad Brown, assistant chief of the Pamunkey Nation. "This monument does nothing to enhance our tribes or help our tribes."
But Karenne Wood, a member of the Monacan Indian Nation and director of the Virginia Indian Heritage Program at the Virginia Foundation for the Humanities, said in an interview that "Mantle" is an important and unique tribute to all Native Americans.
"I think it's a huge deal. In the past, the only acknowledgment of Native people in Virginia has been honoring Pocahontas, who had a complicated history in Virginia," she said. "This monument acknowledges the past and present of all Native people and all of their ongoing contributions and stories. And it will be able to tell a much more interesting history."