Frank Mason III drafted in second round by Sacramento Kings
Fred Jeter | 6/30/2017, 6:49 a.m.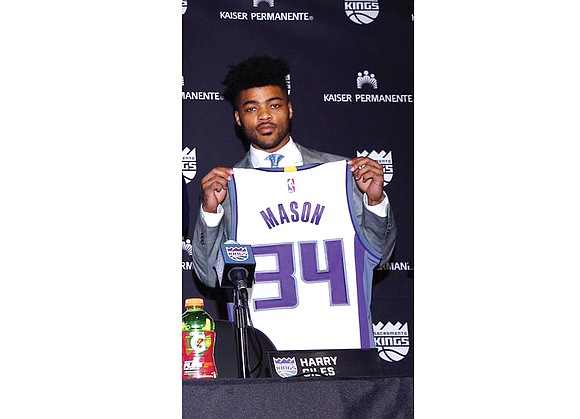 You've heard the cliché "Easier said than done."
Well, some things are better shown than said — like Frank Mason III's extraordinary ability to pass and shoot a basketball and spark his team to victory.
No chitchat necessary.
Selected by the Sacramento Kings in round two of the NBA draft on June 22, Mason was the 34th overall pick. He will get his first chance to show his worth on the elite professional level in the NBA Summer League from July 7 through 17 in Las Vegas.
About 90 minutes after hearing his name called in the draft, Mason tweeted: "Thanks for believing in me Sacramento Kings. I promise you won't regret it."
On paper, Mason resides on the NBA fringe because of his modest 5-foot-11 stature. Even when he was coming out of Petersburg High School, he wasn't heavily recruited by top tier college programs.
Give him the ball, however, and wonderful things happen. On the hardwood, he has dominated, first at Petersburg High, then at Massanutten Military Academy in Woodstock as a post high school graduate and during the past four years at the University of Kansas — wearing the No. 0 jersey — where he evolved as the consensus National Player of the Year.
Kansas Coach Bill Self told the Kansas City Star after the draft, "I'm so excited that now Frank is going to have a chance to provide for himself and his family in ways he never dreamed possible five years ago."
Sacramento opens Summer League play against the Phoenix Suns on Friday, July 7. The game will be broadcast at 10:30 p.m. on ESPN. Teams play at least five games, giving Mason a chance to show he deserves a spot on the Kings' regular season roster.
The dreaded alternative would be if Mason was assigned to the Kings' Gatorade League (G- League) affiliate, the Reno Bighorns, far under the NBA rookie minimum salary for 2017-18 of $563,493.
Only first round draft picks are guaranteed first-year contracts. Mason was the fourth player taken in round two, following an abnormally high three first round choices by the Kings.
Most alarming to Mason's fans is Sacramento's first choice, and fifth overall pick — point guard De'Aaron Fox from Kentucky.
Fox had 39 points in the NCAA semifinals against UCLA, easily outplaying the Bruins' Lonzo Ball, who was the No. 2 overall draftee by the Los Angeles Lakers.
Other first round picks by Kings General Manager Vlade Divac were No. 15 Justin Jackson (6-foot-8) from NCAA champion University of North Carolina and 6-foot-11 Harry Giles from Duke University. Fox, Jackson and Giles were all freshmen this past season.
Further clouding Mason's status, Sacramento has two veteran point guards — former first round picks Ty Lawson and Darren Collison.
But on the plus side, the Kings were 32-50 last year and probably don't want to go 32-50 again, so change is in order.
Also, there are multiple reports Lawson will be traded.
Twice, Sacramento flew Mason to the West Coast for individual workouts, affirming its decision to draft the former Petersburg High Crimson Wave star.