Frank Mason and NBA Summer League roundup
7/28/2017, 6:54 a.m.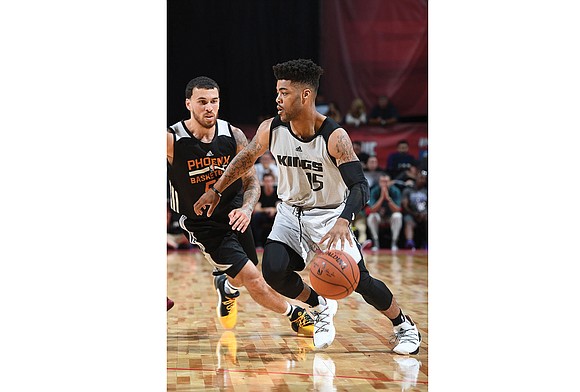 Frank Mason III's aspirations of playing with the NBA's Sacramento Kings are looking up.
The former Petersburg High School and University of Kansas guard turned in an encouraging performance during the NBA Summer League in Las Vegas, July 7 through 14.
Also, in a show of confidence, the Kings cleared roster room by parting ways with this past season's primary ball handlers, Ty Lawson and Darren Collison.
Lawson has since signed with the Shanxi Brave Dragons of the Chinese Basketball Association. Collison has landed with the NBA Indiana Pacers.
Mason, the 34th overall NBA draft selection, averaged 8.5 points, 2.5 assists and 3.5 rebounds in four games for the Kings' Summer League before missing the last two games with an ankle injury.
The 2016-17 NCAA Player of the Year was at his best July 10 in the Kings' 95-92 loss to the summer champ Los Angeles Lakers. He scored 24 points while dishing six assists.
Assigned the No. 15 jersey, Mason is one of 15 players listed on the Kings' current roster.
---
The Los Angeles Lakers are back. At least the Summer League version is.
Led by Kyle Kuzma's 30 points and 10 rebounds, the Lakers won the NBA Summer League title with a 110-98 victory in the playoff final.
Kuzma, a 6-foot-9 rookie out of the University of Utah, was named Most Valuable Player of the final, while Lonzo Ball, the No. 2 overall draft pick out of UCLA, was overall Summer League MVP.
Ball averaged 16.3 points, 7.7 assists and 2.5 steals, but missed the final game with an injury.
Cheering the Lakers on in Vegas was former Lakers All-Star Magic Johnson, who in February was named the team's president of basketball operations.
---
Virginia Commonwealth University Class of 2015 standouts Treveon Graham and Briante Weber came up big for the Charlotte Hornets in the NBA's Orlando Magic Summer League.
Graham averaged 17.7 points, 8.3 rebounds and 2.7 assists, while Weber averaged 11.6 points, 4.0 rebounds and 2.8 assists.
Both were undrafted coming out of VCU.
Graham played in 27 games this past season for Charlotte after a stint in the Developmental League.
Weber, another D-League alumnus, played briefly in the NBA with Memphis, Miami and Golden State before appearing in 13 games this past season with Charlotte.
The former Rams are among 17 listed on the 2017-18 Hornets roster.