VUU names Dr. Corey Walker to lead its School of Theology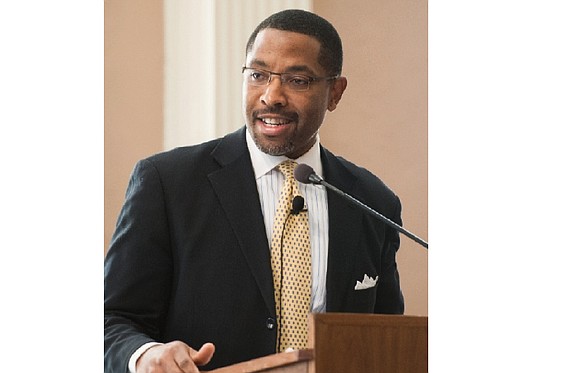 Corey D.B. Walker, a scholar, author and college dean, will return to Virginia Union University to lead the Samuel DeWitt Proctor School of Theology, where he once studied for the ministry.
VUU officials announced Monday that the Board of Trustees chose Dr. Walker to succeed Dr. John W. Kinney as senior vice president and dean of the graduate seminary, effective July 1.
Dr. Kinney, 69, who has held the post for 27 years, announced recently that he would step down as dean June 30, although he plans to continue to teach at the school.
VUU officials noted that Dr. Walker, who earned his master's of divinity from VUU, would bring a wealth of academic experience to the post.
He currently is dean of a major college of Winston-Salem State University in North Carolina — the College of Arts, Sciences, Business and Education, where he manages 19 academic departments that enroll more than 3,500 students and employ more than 200 full-time faculty members.
As dean since 2013, Dr. Walker has overseen 50 undergraduate majors and minors, three master's level graduate programs, four academic centers, the Office of International Programs and the Diggs Art Gallery.
He also holds an endowed chair — the John W. and Anna Hodgin Hanes Professor of the Humanities.
In a 2016 interview for the African-American Intellectual History Society, he offered his views on the role administrators should play.
He called himself "an idealist" who sought to end the divide between administrators and academics.
He said he believed it was time for a new era that "marks the end of the 'administrator' and a new beginning for critical intellectuals committed to activating new visions of transformation and possibility."
In his view, that's what universities need — "critical intellectuals – not administrators," who offer students and faculty "fresh opportunities to move beyond sterile regimes of thought and dogmatic institutional practices, instead framing and authorizing new practices that aid in righteous planetary possibilities."
Dr. Walker previously served as a professor and chairman of the Department of Africana Studies at Brown University, where he was involved in creating the department's first doctoral program.
Earlier, he was a member of the faculty of the Department of Religious Studies at the University of Virginia. He also served as director for three years of the U.Va. Center for the Study of Local Knowledge in the Construction of Race, Gender and Nation, a grant-funded program that was part of the university's Carter G. Woodson Institute for African and African-American Studies, of which he also was a faculty member.
He also spent a year in Europe as a visiting professor at the Friederich Schiller University in Jena, Germany.
Dr. Walker earned his undergraduate degree from Norfolk State University and also holds master's degrees from Harvard and Brown universities, along with his master's of divinity from VUU. He earned a doctorate in American studies from the College of William & Mary.
Dr. Walker has published widely on African-American religion, philosophy and culture and lectured before academic audiences in the United States, the Caribbean, South America, Europe and Africa.