Dr. Corey Walker leaving VUU School of Theology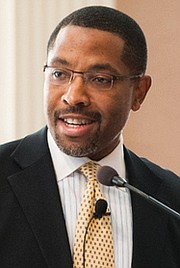 Virginia Union University will soon start looking for a new dean for the Samuel DeWitt Proctor School of Theology.
In a surprise move, Dr. Corey D.B. Walker announced in a letter to the students and faculty that he is leaving what he called his "dream" job as a VUU vice president, theology school dean and professor of religion and society on Dec. 31.
Dr. Walker, who became dean on July 1, 2017, issued his resignation just 17 months after succeeding Dr. John W. Kinney, who retired after 27 years.
VUU will lose an academic who was in demand as a lecturer on religion and culture around the world.

He hinted that the "difficult decision" resulted from a disagreement over his management of the graduate theology school.
In the Nov. 30 letter, Dr. Walker stated that he decided "after much prayerful consideration that the position I accepted has fundamentally changed, and I feel it is only appropriate that I continue the journey that brought me back to Richmond in another professional capacity."
A graduate of the VUU seminary, he described the decision as "even more difficult because to come home (to lead the theology school) was a dream come true."
VUU spokeswoman Pamela H. Cox said Monday that "nothing nefarious was involved."
Instead, she said that Dr. Walker had accepted another position elsewhere. She declined to offer specifics until the university releases an official statement to the campus.

Insiders at the school told the Free Press that Dr. Walker has accepted a position at nearby Union Theological Seminary, though neither Dr. Walker nor the school has confirmed that.
In his letter, Dr. Walker stated that as a result of his appointment to the graduate school, "I have been gifted with the opportunity to work and learn from generous faculty colleagues, some of whom were my former seminary professors, (as well as from the) professional staff and graduate students."
Dr. Walker added that he believes in the school's mission of preparing "people of conviction and courage who are committed to realizing a full freedom for all" while seeking to "build the beloved community."
A scholar and author, Dr. Walker came to VUU after serving as dean for four years of the College of Arts and Sciences at the larger Winston-Salem State University, where he oversaw more than 19 academic departments serving 3,500 students.
He also was the John W. and Anna Hodgin Hanes Professor of the Humanities at Winston-Salem State.
He saw himself as a critical intellectual who sought to offer students and faculty opportunities to move beyond the familiar habits and practices of their schools.
He brought a wealth of academic experience to the theology post, including previous service as chairman of the Department of Africana Studies at Brown University, where he taught and also was involved in creating the department's first doctoral program.
Earlier, he was a member of the faculty of the Department of Religious Studies at the University of Virginia, where he also served three years as the director of the school's Center for the Study of Local Knowledge in the Construction of Race, Gender and Nation.
Dr. Walker earned his undergraduate degree from Norfolk State University and master's degrees from Harvard and Brown universities, along with a master's of divinity degree from VUU. He later earned a doctorate in American studies from the College of William & Mary.
He is the author of "A Noble Fight: African American Freemasonry and the Struggle for Democracy in America" and is preparing for the publication of his second book, "Between Transcendence and History: An Essay on Religion and the Future of Democracy in America."
In addition, he co-directed and co-produced the documentary film, "Fifeville," about an African-American neighborhood in Charlottesville, with artist and filmmaker Kevin Jerome Everson.